In the same vein of the
German release of

Liberation
,
Promenade
was released by Sound Factory.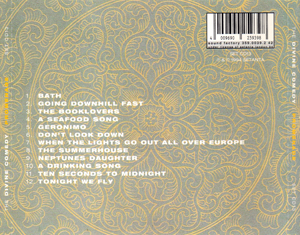 We do not have much info, and everything seems a bit obscure about this release.
First, the artwork: the front sleeve is the same as the UK version, but the back cover is different. Of course it has a different bar code with the label name and catalogue number, but that's all actually. As on the
UK release
no label logo. The release date and catalogue number on the sides are not changed from the original artwork too. If we trust them, we would say the album was released in 1994, but according to listings the album was released in 1996, which is possible too (the artwork being not updated). The other side of the back inlay is actually... blank ! No photos ! The CD tray being actually black instead of being transparent.

Now, the CD itself. It seems that the CD that came in the box is actually the
UK promo
of the album; with the words 'For promotional use only, strictly not for sale' ! This looks very strange. We can think about 3 possibilities:
The album wasn't actually released in Germany, and only promo copies were given away. In that case, why would there be a bar code on the back cover ?
The album was actually released, but to avoid cost, only back covers with bar code number were printed. And then the label packaged with what they had, i.e. promo CDs.
Both versions exist: regular German release and promo release. The promo being the UK CD packaged in the German artwork.