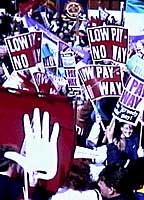 Newcastle comes out in force for a living wage
10,000 people marched through Newcastle and attended a gig tio campaign for decent waages for under 22 year olds.
Johnny Cigarettes
reports.
Minimum wage? MAXIMUM ROCK'N'ROLL!!!"
So cried
Neil Hannon
of
The Divine Comedy
at the height of this weekend's
Concert For A Living Wage
at Newcastle Arena. If only it were as simple as that. If only people still believed rock'n'roll could cure all ills, and make the world a better place. But at the very least, Saturday's event was a fine modern example of how you can still get a worthwhile message across in the 'rock' medium.
You probably wouldn't have heard much about it in the papers in the last few months, but the Labour Government have this year made the uncharacteristically un-Tory step of introducing a minimum wage, to combat the ever-increasing greed of employers and poverty of workers in the lowest-paid industries. The minimum rate was set at #3.60 an hour. Pretty bleeding paltry, but it's a start. The problem is, to appease the interests of business, not only are employers not obliged to show how they have paid employees (meaning over a third have admitted they do not plan to pay the minimum wage) but there is also a separate rate of #3 an hour for under 22-year-olds. Ever felt like you're still being cheated?
"Shame on you for turning blue," went the anti-
Blair
slogans on the march - organised by Unison, the public services and essential industries union - preceding the concert, from Gateshead to Newcastle, across Tyne Bridge. Eight thousand people turned out, quite a result for a cause that is hardly likely to be prominent in the news when there's a war on.
More successful still was the gig, as Newcastle Arena was sold out to its 10,000-capacity to see a line-up of
Ash
,
The Divine Comedy
,
Space
,
Travis
, and
Fungus
. A collection that wouldn't look out of place at the upper end of a festival bill,
Chumbawamba
and
Billy Bragg
surprisingly not being roped in at the last minute. The popularity might also have something to do with the admirably considerate and unlikely decision of the organisers to make tickets #3 a throw, and make it a daytime gig, meaning the low-paid and kids could go (letters in next week's Angst bag about 'knicker-wetting eight-year-olds' will be politely rejected), for once making a benefit gig accessible to the people it's meant to, you know, benefit.
No allowances were made for those of a nervous disposition, mind. The volume was approaching the level of bowel rupture from the moment Swedish grunge popsters
FUNGUS
formation-bounced onstage and proceeded to be agreeable and unremarkable in equal measure.
TRAVIS
were the band all those slightly tottering Scottish kids drinking cans on the march had evidently come to see. And they sounded fantastic, not least due to songs custom-made for singing in large aircraft hangars and country parks by thousands of people, lighters optional. And if
'Writing To Reach You'
was a fine single, the next offering,
'Driftwood'
, looked on today's evidence to be just as good, the kind of deliberate epic, deep-pile emotional tune that make the ubiquitous Radiohead comparisons justifiable.
Alas, no such skills from
SPACE
, whose amps sounded like cement mixers and who managed to turn such potential singalongs like
'Female Of The Species'
and
'Avenging Angels'
into damp squibs. Not that they cared, the ever tactful
Jamie
commenting, "Lend us a fiver will yer?" to the low-paid masses. That'll be that lovable cheeky Scouse 'sense of humour', then...
Performance of the day, though, by general consensus, was by
THE DIVINE COMEDY
. Playing with
Robbie Williams
must have had an effect, because
Neil Hannon
and friends fill the place with a sound that's huge and elegant and a charisma that's pulled back from always playing for laughs, and instead makes for a show that's witty, original and, oh, go on then, all-round entertaining. And considering he announced tonight that the 1993 single
'The Pop Singer's Fear Of The Pollen Count'
is to be rereleased this summer, the star on
Neil Hannon
's dressing room door can surely only get bigger.
No such frivolities for headliners
ASH
. From the first squall of feedback to the last space-shuttle cacophony, it's punk rock like your uncle from New York used to make. A deeply ill-advised DJ scratching in the background is the only drawback from full-throttle readings of
'Jesus Says'
and
'Kung Fu'
, not to mention sweat stains and mutually assured tinnitus. Several parents are seen fleeing from the premises, but it sums up one of the best aspects of this gig - it's the kind of show you'd see when you were 13 that would get you well fired up about live 'rock' music and the cause it's promoting. Rather that than a bunch of millionaires backslapping for an apolitical cause cilhbre or hippies moaning on for a painfully right-on cause. This is pop that was always political, always relevant and always inspirational. "Low pay - no way, make the greedy bastards pay!"
Sounds like the cue for a song.
NME.COM 14/03/1999 12:25:58 PM