Divine Comedy's Bang Goes the Knighthood: Theatrical album would make Stephen Sondheim proud.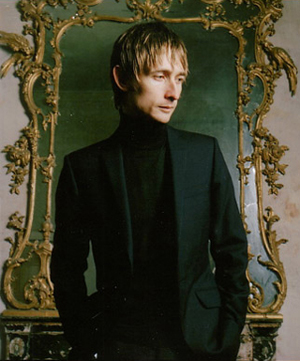 Divine Comedy's Bang Goes the Knighthood is such theatrical perfection that Stephen Sondheim would be proud.
What connects the following characters? An Italian girl trying to navigate her way through post-World War II Naples, a banker culpable in the latest stock-market crash, a politician masochistically drawn to scandal, and fans of '90s indie rock nostalgically whooping it up in a club.
Just one thing links them: They all burst from the elastic imagination of Neil Hannon, otherwise known as The Divine Comedy. No songwriter alive gets into other people's heads more convincingly, while creating a broader range of humanity. Since the early '90s, the Irish-born Hannon has been writing character-driven songs so vivid, each could be part of its own fully realized piece of musical theater. (In fact, Hannon has been working on his own such beast for several years now.) Once again, the new
Bang Goes the Knighthood
finds Hannon not only serving up a finely honed gallery of pie-eyed lovers and low-down scoundrels, he also places them in a world you can visualize.
The opening song, 'Down in the Street Below', is nothing but setting, offering a guided tour through scenes that quickly shift from an anxious bedroom to a bustling sidewalk to a stylish high-rise bar. To match each, Hannon switches his musical palette, drawing on everything from strings to woodwinds to rock guitars, to create a phantasm of changing moods.
The way Hannon reveals his characters proves just as clever and seamless. They're more often defined by their deeds than their thoughts, giving the songs great action.
Considering Hannon's love of both drama and pop history, it's small wonder his dearest musical influences come from the world of '60s lounge-pop. There's a lot of Burt Bacharach erudition in his sound, as well as Neil Diamond joy and Tony Hatch punch. (Hatch authored Petula Clark's hits in the '60s). It's fanciful music Hannon writes, as bright, clean and busy as his verbiage. It's also broad-minded, ranging from a perfect piece of pop fluff like 'At the Indie Disco' to an elegant reach for a standard, 'Have You Ever Been in Love?' In 'When a Man Cries', Hannon deftly balances a tortured lyric with a grave melody. In the title track, the impish melody amplifies the character's perversity.
Hannon's skill at matching compelling melodies to complex cadences proves so rare, he deserves comparison to the theater's greatest exemplar of those skills: Stephen Sondheim. It's too bad no one in the Broadway world has gotten hip to his potential. Here's a hint: When casting for the next genius of the musical theater, they should search no further.
Jim Farber
NY Daily News 03/09/2010