J.R. Blandford chats to the bishop's son from Enniskillen, currently touring with Robbie Williams.
It seems strange that the Divine Comedy should currently be touring as Robbie Williams' support act. Strange, because while the petulant prince of pop has only released two rather lacklustre albums, Neil Hannon's band have recently released their sixth critically acclaimed studio collection. The fact that they should be primarily known for having written the incidental music for Father Ted also seems rather strange, if not downright insulting - especially as, at the time of writing, their latest single "National Express" has just entered the charts at No. 8. Then again, it could be said that everything about this band is strange. The brainchild of the son of the Bishop of Clogher, the Divine Comedy blend pop with the kind of rich orchestration that seems more at home on Radio 3, while they claim diverse influences that range from composer Michael Nyman to torch-song crooner Scott Walker.

Neil Hannon was born in Londonderry in November 1970. The youngest of the Bishop of Clogher's three sons, he demonstrated an interest in the piano at an early age, and it wasn't long before he took the almost mandatory lessons to find his way around the keyboard. Reports have suggested that Neil felt himself to be an outsider at school, due in part to his home life "wasn't terribly religious though I was in the church choir so the music certainly influenced me. You can't do that every Thursday and Sunday for most of your childhood and not be influenced - I can detect certain hymn-like structures in my songs!" And does the Bishop approve of Neil's musical career? "Oh, he approves of the fact that I'm doing an honest day's work!" says Neil. "He does like a lot of the music, although sometimes I think he's a bit confused by the imagery. He has problem with the gigs because he hates the decibels - but that's just an 'oldie' thing."


Fanfare For The Comic Muse
The first incarnation of the Divine Comedy was born in summer 1989, when Neil was a mere 18 years old. Comprising Neil, John McCullagh and Kevin Traynor (drums/percussion), the trio were quickly signed by Keith Cullen of Setanta Records - home of such acts as Frank And Walters and A House - and headed to England where they launched with an LP, "Fanfare For The Comic Muse". The musical style of this debut is far from the Divine Comedy we know today as Neil is the first to point out: "I initially saw the band as a kind of duplicate REM! I was about 19 in '89, so that was pretty much what I was listening to as well as all the shoegazing stuff - Ride, Chapterhouse and My Bloody Valentine. But I wasn't good enough to be that loud and that cool! I retain the basic element, which was huge ambition. But musically there's not a lot of that left. I think underneath a lot of the modern stuff you could probably get these pretty stable rock structures going on."

Nevertheless, this debut release is now so scarce that vinyl copies can fetch around £50, while the original CD will set you back a wallet-emptying £60! The following year saw McCullagh and Traynor returning to their studies, leaving Hannon to tell label manager Cullen that he would 'do fine' by himself. This departure from a 'band' concept was instigated, according to Neil, by the other members "realising Neil's an arrogant, egocentric bastard". Nevertheless, retaining the Divine Comedy moniker, Neil slowly worked on developing a solo image and began to work on new material.

"I never doubted myself once," says Neil, "and that's either the fatal flow or the saving grace depending on how you look at it! Basically, after the age of sixteen, I knew that I couldn't possibly do anything else, so I just brainwashed myself. There were very few times when I actually thought 'this might not work'. When we split, I thought to myself 'Great! Now I can do exactly what I want!' I was listening to a lot of different music at that time anyway, and was a bit fed up of being chained to the guitar. So then the Scott Walker influence crept in as well as Michael Nyman and lots of those sort of things. I kind of used my first real album, 'Liberation', to explore all the different interest that I had.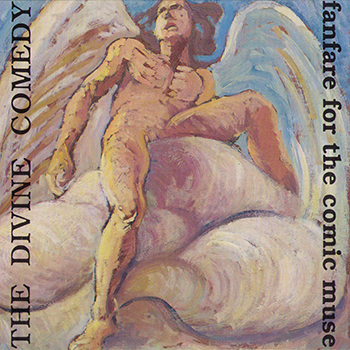 This surreal cover housed the infamously rare "Fanfare For The Comic Muse" LP.
"Timewatch": An enigmatic cover short for this early £20-rated single release.
Liberation
It took about twelve months of developing various ideas for Hannon to come up with "Liberation". The album embraced a completely style to "Fanfare", utilising anything that seemed pertinent, from distorted ride cymbals to harpsichords and French horns, while the themes ranged from the seemingly mundane to the comically bizarre. "Pop Singer's Fear Of The Pollen Count" was based around Neil's refusal to let hay fever spoil his summer; "Bernice Bobs Her Hair" was an F. Scott Fitzgerald short story about 1920s flapper girls, set to music; while "I Was Born Yesterday" dealt succinctly with the scourge of parents.

Considering this was the same Neil Hannon who used to let a bandmate deal with vocals due to his shyness, the confidence shift seemed surprising. "It's funny," he admits. "It wasn't that I was too shy, it was just that I think I wanted to be Pete Townshend really! I wanted to be the cool one who wrote all the tunes but took a back seat, and also I didn't really see myself as a frontman as such - I didn't think that I could pull it off in a very entertaining way, so I got my mate John to give a short. It didn't really work out, and it wasn't really his fault. I kind of forced myself back into it by doing that first album, and suddenly having to do shows, which I hadn't really thought about. When I made 'Liberation' I wasn't thinking of it as a live presentation at all, so doing shows was a bit of a revelation, as we'd changed the live format to acoustic guitar, cello and violin. Suddenly it was a lot more intimate. It was a good way to build up my confidence. Just get on with the crowd for once - I'd never really spoken to them before."

The LP was released in August 1993 to some critical success. Select described "Liberation" as "one of the bountiful, overflowing joys of the year. Any year." Graham Linehan - who would later find fame as the co-writer of Father Ted, for which the Divine Comedy provided the theme and incidental music - claimed that the album contained "songs so sad that seem perpetually in danger of simply stopping". However, unsupported either by a tour or accompanying single release, the album failed to dent the charts in spite of the glowing reviews.


This clear vinyl flexi-disc, split with a track from the Glee Club, fetches a healthy £18.

The hand-stamped sleeve for "Indulgence No. 2". Minimalist, maybe. Rare, definitely.
Promenade
Hannon was sufficiently encouraged by this critical success to start work almost immediately on his next LP, which was planned as an attempt to destigmatise the concept album. Loosely connected by a sea-side theme - though this primarily served as a hook upon which to hand a number of Neil's favourite subjects - the songs on "Promenade" trace the story of how two friends choose to pass a day together. Picked by Q as one of its Best Albums of 1994 ("one of the most unexpected and original treasure of the year"), the LP reached the indie Top 10, inspiring Hannon to start work immediately on yet another record.

Perhaps the oddest song on the LP was "The Booklovers", in which Hannon reeled off the names of some 60 authors, followed by a gap for them to answer (many of these replying voices were supplied by Irish comedian Sean Hughes).

During the recording of "Promenade", Lady Fate intervened when Neil was introduced to Joby Talbot - soon to be named BBC Young Composer Of 1996. Shortly afterwards, when asked to support Toru Amos on tour, Neil remembered Joby and invited him aboard. The band line-up would gradually expand over the following tow years, to include Neil's Enniskillen school-friends Bryan Mills (bass) and Ivor Talbot (guitar); Joby's old friend, an ex-merchant banker Stuart Bates (keyboard); and Miggy Barradas (drums). All of these musicians remain in the band today with another of Joby's old friends, Rob Farrer (percussion), completing the outfit.

It was around this time that Neil was asked to write the theme music for Father Ted: "Graham and Arthur, the writers, had been fans for some time. Graham used to write for Select, and he'd reviewed the earlier albums. he just rang me up one day and asked me if I'd like to do it and I had total cold feet about it, as I'd seen their previous thing, Paris with Alexei Sayle, which was a complete disaster. But I thought, 'well, I need some practice at this TV lark so I might as will give it a go - nobody'll notice if it goes wrong!'." Some time elapsed between Linehan's request and the completion of the song, which would eventually emerge as a bonus track, "Songs Of Love", on the first single from "Casanova".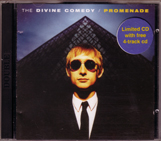 Initial copies of the third LP, "Promenade", were accompanied by a bonus 4-track CD.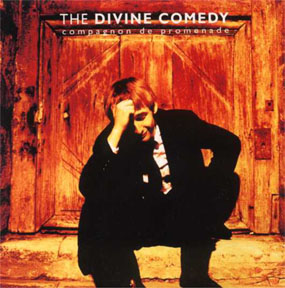 The hand-stamped sleeve for "Indulgence No. 2". Minimalist, maybe. Rare, definitely.
Casanova
The Divine Comedy's major breakthrough came in April 1996 with the bleak, yet highly accessible, "Casanova". Reviews were, once again, ecstatic, Melody Maker claiming that the songs "ooze charm, cascade, sigh, wink, and weep". Neil describes the LP - which gave him the reputation of a bit of lothario - as "a huge tongue-in-cheek thing. I'd been doing the usual mid-twenties thing, just testing the waters, no more or less than anybody else, and I wanted to write an album about that. Being the Divine Comedy I obviously had to flower it up a bit. Basically, the 'Casanova' period came and went, and it had to. I'd investigated that part of life, stopped living like that and moved on."

"Songs Of Love", the theme from Father Ted, surfaced on the first single release from "Casanova", which was the quirky "Something For The Weekend". This cut quickly garnered heavy rotation on Radio 1, due largely to the efforts of an enthusiastic Chris Evans who had made the cut his 'Breakfast Biggie'. As was to be expected, a TFI Friday appearance swiftly followed and on June 23rd '96, the band found themselves at No. 13 in the Top 20. Neil reckons that Chris Evans "gave 'Casanova' an enormous push, but the fact was that it was an LP that could be pushed in a way that my previous ones couldn't. Chris Evans was certainly influential, but I still hold to the belief that if it hadn't have been him, it would have been somebody else."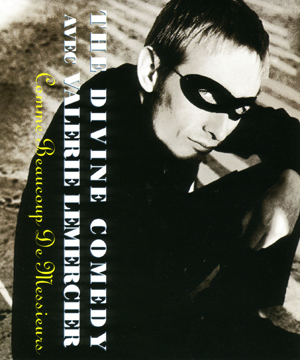 This is the French-language version of "Becoming More Like Alfie". Nice mask, Neil!
In August, the second single, "Becoming More Like Alfie", followed the first single into the high reaches of the chart, accompanied by a video clip in which Hannon was delighted to be able to emulate Michael Caine. However, despite the enormous fun he appears to be having in his videos, Neil finds them "Hellish! I hate videos! It's just my deep-seated work ethic that makes me do them. The thing I like about this job is that once you get bored of one thing, you move on to the next. There's about four different sections of this job: writing, recorded, playing live and general promotion - if you did any of them for too long you'd get sick of them. But I think the least satisfying part is probably the promo, just because it gets a bit mind-numbing after a while - trying to justify yourself.

"I love the live experience when it goes right, though it's the worst thing in the world when it goes wrong. Sometimes my heart has sunk and I've left the stage thinking 'why bother?'. And it's usually all in my mind - the audience doesn't care! The most satisfying aspect is sitting at home and writing the tunes in the first place, because that's the most free. You have nobody to answer to except your own judgement, your own aesthetic. Even when you get into the studio it gets diluted, but that has to happen just to bring it into the bounds of reality."

Within a year, "Casanova" was certified Gold, having sold more than 100,000 copies in the UK.


The USA edition of "Casanova" emulated "Promenade" by including a bonus CD...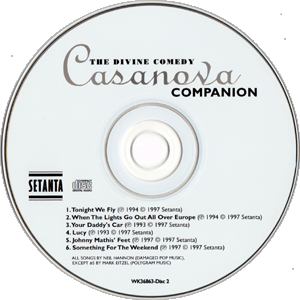 And this is it! Rather unimaginatively titled perhaps, but there we are
A Short Album About Love
These successes were quickly followed by a mini-LP, "A Short Album About Love", which featured seven heavily orchestrated new songs. Recorded in two days with the Brunel Ensemble (a thirty-piece orchestra) at the Shepherd's Bush Empire, the LP was their first to feature Joby Talbot's orchestral arrangements on every track. Released on Valentine's Day 1997, it entered the charts at No. 13, by now a lucky number for the Divine Comedy, and was available for a limited period as a boxed digipack edition, already rated at around £20.

The single from the LP, "Everybody Knows (Except You)", reached the Top 15 and resulted in a live performance on Top Of The Pops This prompted a string of sell-our performances across the world, which included a special one-off show in Japan and a full orchestral tour of France and the UK with the Brunel Ensemble.

In the summer '97, an opportunity also arose for Neil to collaborate with his long-time idol Michael Nyman, when he was asked to arrange a number of classic Nyman tracks for a special performance at the Edinburgh Festival's Flux event. Nyman's influence on the creation of Hannon's LP "Promenade" has been se great that Neil had once thrust a cope of the LP into the composer's hands backstage (Nyman later admitted to having never listened to it!). Now he found himself performing alongside his hero to a packed-out audience for two nights. Nyman subsequently returned Hannon's favour by performing a selection of Divine Comedy songs - specially rearranged by Neil and Joby - with a string quartet, while Neil, Joby and Nyman also collaborated to compose a new track, the as yet unreleased "Grizzly Knife Attack"!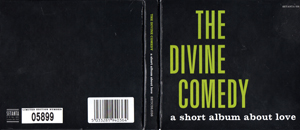 This numbered box housed the deluxe digpak edition of "A Short Album..."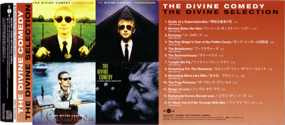 This 100-only Japanese sampler will set you back at least £100. Start saving now.
Fin De Siècle
In January '98, Hannon took a break from writing material for the new Divine Comedy LP to cover a Noel Coward composition for the Red Hot Aids Trust LP, 'Twentieth Century Blues", at the request of Neil Tennant of the Pet Shop Boys. Other contributors included Paul McCartney, Robbie Williams, Elton John and Marianne Faithfull. Neil opted to rework "I've Been To A Marvellous Party", and the electronically enhanced song was picked for single release alongside Shola Ama and Craig Armstrong's recording of "Someday I'll Find You". On its release, reviews were generally favourable: The Times described it as a "skilful update", while the Evening Standard opined that it was "very funny and deeply cool".

The album was launched at a Gala Evening at the Park Lane Hotel Ballroom, some of which was filmed for an Arena documentary aired in Easter '98. At the same time, Neil found himself nominated in four categories at the prestigious Heinekin/Hot press Awards, for Best Live Act, Best Album, Best band and best Songwriter!

The Divine Comedy's sixth studio album, "Fin De Siècle", hit the stored on August 31st 1998, and was shortly followed by the release of "Generation Sex", a potentially controversial single which explicitly mentioned thorny subjects such as Princess Diana's death.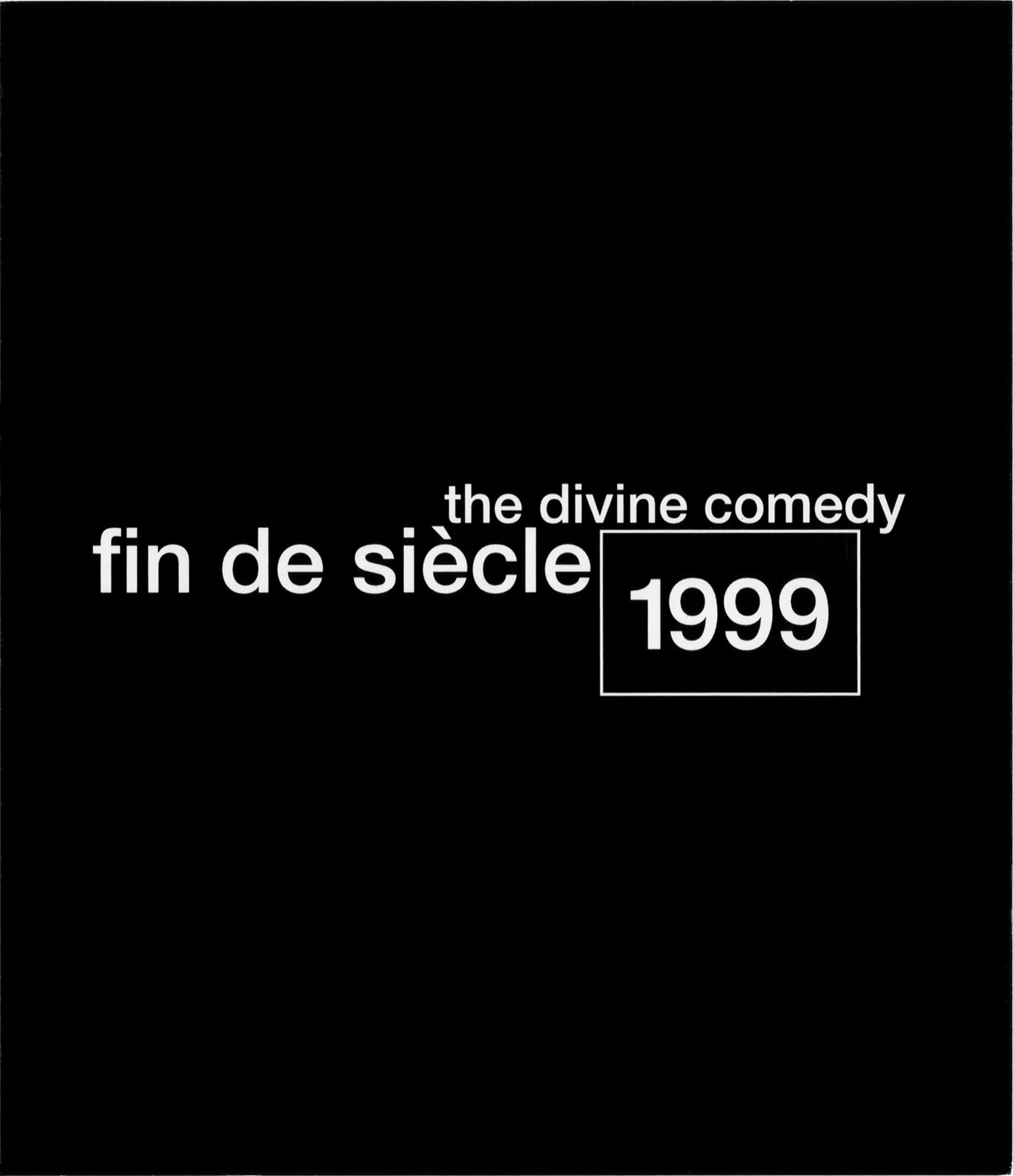 This promotional 1999 desktop calendar was issued to push the latest studio album.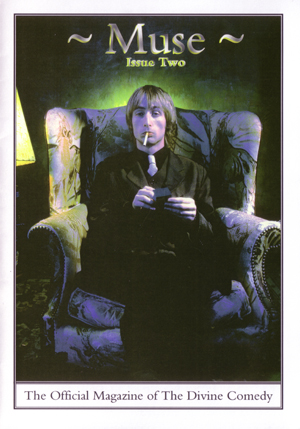 The band's official fan club produce this regular info-packed magazine, "Muse".
Ironies
Unlike their previous albums, "Fin De Siècle" doesn't bother to hide its implications with clever ironies. Neil recently told Select magazine that "This album was one of the first times I felt I had to say things straight and not undercut the whole thing with irony. The music is the root of everything I do and therefore it should inform the way I look and act. I couldn't sing songs about death while wearing frilly shirts and cravats, so I went for the anti-image to concentrate people's mind back to the music." Nevertheless, despite the album's title, Neil maintains that "I wasn't really talking very much actually about the millennium on the album. I was using the term 'fin de siècle' because it's the end of the century, and that's the point in history at which I'm observing society. And I'm fascinated that anybody's actually interested in these four numbers just changing all at once. But these things are really just in people's minds anyway and I suppose it could work to the better because everything's got so mixed up over the last fifteen years - there are so many revivals, and revivals of revivals - that something new must happen soon. Maybe this will be some sort of button to push in people's minds, to make them do something original."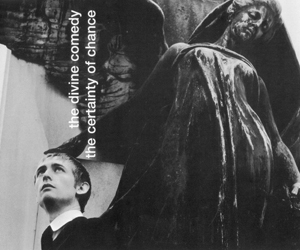 This gloomy sleeve housed the "Certainty Of Chance" single. It's behind you!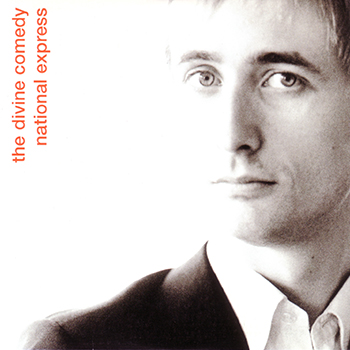 And - Hurrah! - the latest chart-bustin' single, "National Express". Very affordable.
Antidote
Perhaps as an antidote to the depressive atmosphere of "Generation Sex", the third single release, "National Express" - issued in January '99 after the chart flop "Certainty Of Chance" - was a more humorous number, released to coincide with the Divine Comedy's tour with Robbie Williams. Still, isn't Robbie Williams an odd choice? "I admire him hugely," says Neil, "and I think he's hugely talented. It's very admirable, in a way, that he's even still around, let alone doing a massive sell-out arena tour and selling shitloads of records! I think he's getting a hard time because he's such a good popstar, and there are so few of them about. I admire a lot of his music for its acute awareness of pop. We wanted to do this tour firstly because he likes me and I like him, and secondly, we wanted to get some experience of venues this size!"

Which leads to the question as to which other of his contemporaries Neil actually admires: "I suppose Radiohead are contemporaries, and I think they're probably the best band in the world just for their sheer ambition, and the fact they refuse to be swayed by anything. I'm also a big admirer of Beck and I think Mercury Rev are a great band."

With "National Express" having entered the charts at No. 8, the future looks increasingly rosy for the Divine Comedy, so what ambitions does Neil have left to fulfil? "Musically, I still have to rule the world - that's always at the back of my mind. I'd really like to do something frightfully original and intellectual. I'd like to do my own videos, just to do some good ones. But apart from the music, all I want to do is buy a dog, which I'm going to do at the end of this month." Meanwhile, Neil is decidedly evasive on the subject of his next album: "I've got lots of ideas, but I'm not going to tell you any of them! Sorry! All I can say is that I hope that it might not be so concentratedly thematic as previous offerings. I think it's time to open it up a bit, as I think I've been a little claustrophobic with my ideas up until now."

As for his releases to date, "they're all equally wonderful for me, but in a very different ways. They're all minor victories along the line. I'm proud of 'Liberation' because I had to change my whole outlook to do it; I'm proud of 'Promenade', because it was such a conceit and I managed to pull it off; I'm proud of 'Casanova' because it's the ultimate pop album; I'm proud of 'Short Album' because it sounds so neat with the orchestration; and I'm very proud of 'Fin De Siècle' because it was such a mammoth task, it was a bit of an epic. They're all my children - I can't pick between them!" And on that note, Neil disappears to do his soundcheck.


With many thanks to the ever-lovely Claire at Divine Management; Energy; Polly at Coalition; Track Attacks and Spellbound; Muse, the Divine Comedy's official fan-club.


J.R. Blandford
Record Collector 03/1999