The Divine Comedy kingpin mourns the slow death of the intelligent pop lyrics.
In 2006, the one thing that seems to be missing from pop lyrics is the desire to communicate. In the past, songs always seemed to be about something – love, sex, war, religion, drugs, death. We still had silly pop songs but they sounded meaningful, even when that obviously weren't. Like Bowie – he was the king of that. I'm sure most of his songs didn't mean anything ('The Jean Genie'?) but the lyrics were incredible.
Mystery is a very important part of pop lyrics. Having something exist beneath the surface is like the difference between a revealing dress and complete nakedness. Me, I've always been a fan of the revealing dress. It's the Coldplays of this world who have such an opportunity to say so much but, to my mind, say so little, that are the problem. Chris Martin might be communicating something very personal to himself, but what he says does absolutely nothing for me. His statement all seem hyper-generalised, designed to draw in as many people as possible without saying anything in particular.
Today, there seems to be a fear of appearing intelligent. A huge anti-snobbery movement means that bands have to talk about going down the pub, the exception to the rule being The Artic Monkeys. Their lyrics are witty and well observed. Alex Turner is the closest thing I've heard to Morrissey in a long time. In fact, the Monkey's success gives lie to the belief that people don't like a clever lyric.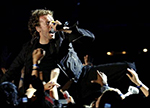 Blank statement: Coldplay's Chris Martin
In terms of all-time greats, I would nominate Leonard Cohen, Bob Dylan, Elvis Costello, Ray David and, the greatest lyricist who ever lived, Morrissey. They were all people with something to say and they did it with wit, honesty (or sometimes dishonesty) and style. They had the power to move as well as amuse. For me, it's Morrissey's sardonic intelligence that places him above everybody else and the fact that he can puncture his own balloons at will. My favourite line is in The Smiths's 'Frankly, Mr. Shankly': "
I want to live and I want to love / I want to catch something that I might be ashamed of…
" Absolutely genius.
Every time I hear Dylan, too, he makes me smile – even if I haven't got a fucking clue what he's on about. He has incredible rhyming in the old-style, folk ballad sense-something of a lost art. Some might say he'd rhyme himself into oblivion. As a songwriter, I love rhymes and find they help me say what I want to say, rather than constrict my flow.
Obviously, though, a song is melody
and
lyrics and they have to work together to hit the heights. You can have the greatest tune in the world, but if the lyricist isn't trying to communicate something important, then it's going to fall completely flat. I would hate anyone to think that I'm setting myself up as the arbiter of taste and a lyrical genius. I'm certainly not that. But at least I'm trying to say things in an honest and interesting way.
Neil Hannon
Uncut 01/2007