As The Divine Comedy prepare for their appearance at V2001, front man Neil Hannon reveals unfulfilled plans to make his very own version of Big Brother.
Neil Hannon is so hooked on Big Brother he's considered making his own series. "I've been watching quite a lot – it's embarrassing really," admits the Divine Comedy frontman.
"I obviously hate the whole idea, it's voyeurism at its worst, but, ah, it's good fun!
"They're quite an interesting bunch of people, I actually prefer them to the last year's for some reason," he adds.
"You get a better dynamic and they keep voting out the people I wanted voted out so that's cool.
"When it was on last year we were in the midst of making our record, in fact it ran parallel with the show," he adds.
"We just thought 'this is silly; we should have cameras all around the studio cos its exactly the same principle and then we should sack a member of the band every week and see who's the most popular' – you'd just have a phone-in vote on your website every week, and the album would be finished by the person with the most votes!"
Fortunately the band never went through with their idea, and are all very much together, preparing for the summer festival season – not that Neil sees the appeal.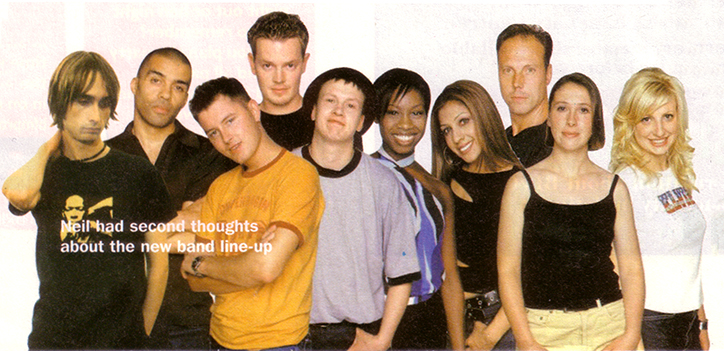 Neil had second thoughts about the new band line-up
"I've only ever been to one festival as a punter and that was the 'Trip of Tipp' in the South of Ireland," says Hannon.
"We brought a tent – I was about 19 and I really did not get it at all!
"There was quite a good line-up – The Mondays, Ride and people like that, it was pure baggy shoegazing era.
"I just didn't like the walking miles to the venue or the toilets or anything, being stuck in a field… I never enjoyed family holidays when we were in a tent so why would I enjoy it to go and see music?"
You forget to mention the weather…
"It's entirely dependent on the weather,' he says. "But even then I have problems – if it's pissing down with rain it's horrible, but if it's splitting the stones with sunshine I'm usually sneezing my head off so I'm between two stools.
"This year the hayfever has been much worse, but I won't burden you with my problems… all those adverts for the cures lie – 'Live a normal life' – bxxxxxxs!"
He adds: "You never either want or get a lot of sympathy off people; if they don't know what it's like they just want you to snap out of it and have fun with everybody else – as much as its got cold symptoms you feel like you've been run over by a truck most of the time."
Despite his reservations (albeit tongue in cheek), Neil and the band come to V2001 next month in a string of festival dates across Europe, promoting new album
Regeneration
.
"This year we've been able to broaden our horizon a bit and do the Rock im Park and Rock Am Ring in Germany," says Neil.
"We're going to Italy to do this strangely titled Goa Boa Festival – alas it's only Genoa!"
Regeneration
marks a big change for The Divine Comedy; in came indie T-shirts and jeans and Radiohead producer Nigel Godrich, gone are the shiny suits, cheesy cabaret – and commercial success.
"The only struggle is getting people to come and see it," says Hannon. "Once they're there they're in our grasp and its not a problem. The gigs have been great.
"
Regeneration
was the radical departure, so while we're in this vein of form I think we'll continue with it.
"The album sold fine – enough to keep us in a job – obviously people will look back in the future and say it was a misunderstood and unrecognised classic, but I'd prefer if they just bought it now!"
What's On, 07-08/2001 ?