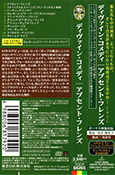 The
Absent Friends
album was released in Japan on March 24th 2004 (a few days ahead of the UK release date). Surprisingly, the album does not include any bonus songs, but only a CD-ROM track with the video of '
Come Home Billy Bird
'. Therefore it does not features the Copy Controlled system. The package also includes an obi strip and additional sleeves notes with translated lyrics.
The obi strip has a green background, and features the titles in Japanese plus a few notes (including technical requirement for the video). The spine features a lovely reproduction of the Stag's Head's stained glass. Catalogue number, bar code, and logos are also printed.
The booklet is nearly the same as the
international release
(even the cropping is the same). The only difference is, on the last page of the booklet, a reference to Toshiba-EMI with their catalogue number and a 'Made In Japan' mention.
Strangely, the back cover wasn't much redesigned for this release compare to the
UK release
: the tracklisting and copyright notes are the same, no reference to Toshiba-EMI nor the CD-ROM track. The main difference is the bar-code that has been removed, hence it is only to be found on the obi strip.
On the spins, however, are printed the catalogue numbers 'TOCP-66265'.
The other side of the inlay shows a simple copyright notice, as the
UK release
: indeed, no Copy Control system is featured on this release.

The CD itself has the similar 'blue plaque' design as the regular release. Instead of a Parlophone / Copy Control logo, it features Compact Disc Digital Audio + and CD Extra logos. On the left the copyright note features the Toshiba catalogue and serial numbers, and on the right, manufacturing information as well as a JASRAC logo, the Japanese copyright management society. On the other side, near the centre we can read:
IFPI L153 TOCP-66265 2
.
Finally, the album also comes with a Japanese sheet. The sheet includes on one side Japanese tracklisting, a translation of the press release, and an article. On the other side, translated album lyrics, as well as technical requirements for the video.

The Japanese releases of Divine Comedy's albums also turned out in promo version. However, those promos are different than the European ones. It is an ordinary album, and not a CD-R nor a CD in a card sleeve, but with a sticker on the back cover. There is also a mention graved in black near the CD's label.