In 1989, Neil Hannon's band, called at this point The Cherry Orchard with a new line up featuring
October
's guitarist
Lawrence Hoy
as well as new recruits
John McCullagh
and
Kevin Traynor
, recorded in Active Studio five new songs. Soon after Neil Hannon changed the band's name to The Divine Comedy, and it become the first Divine Comedy demo. The cassette was mainly used to be sent to labels, but also sold at gigs it seems as money was always welcome. The strange story about it is that the manager of the band,
Gary McGrade
, didn't send it to
Setanta Records
, but it was Setanta who got in touch with the band after having received their copy from Rough Trade [1]. It is said that
Keith Cullen
did not originally wanted to sign the band, but his then-girlfriend insisted to give his chance to the band! [2]
At that time, when the band was looking for a label, some gigs were played, thanks to Gary again, radio interviews were done and songs from that tape were broadcast on Downtown Radio by Johnny Hero, and on RTE by Dave Fanning.
The songs on the cassette are 3 demos from
Fanfare For The Comic Muse
(not album versions then, the arrangement is of course a little different) and 2 songs that don't appear on the album: '
Soul Destroyer
', which is the same version that also appears on
Rarities
, and '
Irrelevant
' which is an unreleased song.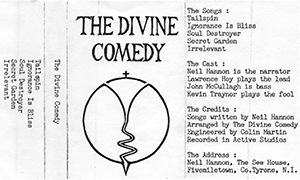 It seems that different versions exists of the tapes. Each of them having different quality depending on how they were duplicated. Some of the copies come with a proper artwork with tracklisting, credits and contact info ; they are likely to be the copies the band used to sold at their gigs.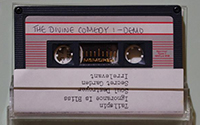 Other copies came with handwritten details, mostly the same but with less credits. On that picture, the date written on the sleeve was added by the ENTS office of the university that received it, maybe because the band wanted to play a student festival or something like that. Sadly on the picture the address was blurred out, but while the first version features Neil's address in Fivemiletown and here we have an address in Enniskillen, it is likely that it was the band's manager address.
[1] Neil Hannon, radio interview 2010. Exact reference needed
[2] Muse magazine biography