The
second

Casanova Companion
has a yellow design, which means that the title on the cover and the CD are yellow. The title on the side and the tracklisting are also printed in yellow.
Around the centre of the CD we can read:
C2552 SETCD 27 IFPI L123 MASTERED BY NIMBUS IFPI L123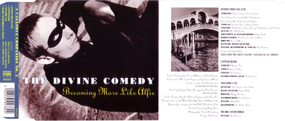 The 7" features only 2 tracks: '
Becoming More Like Alfie
', of course, and the Radcliffe session of '
Your Daddy's Car
' which is actually the only
new
song from the B-sides. The sleeve uses the CD artwork with an enlargement of the venitian bridge picture as the centre of the A-side. The tracklisting and some credits are printed on the B-side over a yellow background (which is the CD colour). On the side A of the vinyl is written "
SET 27-7-A NEIL@MASTERPIECE
" and on the side B "
SET 27-7-B
". NEIL@MASTERPIECE does not actually refers to Neil Hannon, but may refers to Neil Devine of the Masterpiece Mastering Studios in London, though they are not credited. The back of the sleeve has also the bridge photo and the complete credits over an yellow background too.
White labels test prints of the single also exist. These are the same print as the official release. They come within a generic white sleeve on which the title « DCs – Alfie » is handwritten on the top-left corner of one side. We do not know how many copies actually exist.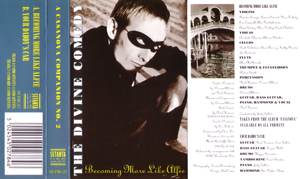 The cassette of
Becoming More Like Alfie
features the same tracks as the 7". The sleeve use also the same artwork elements as the CD, but in another way: the front cover has been rotated 90° with the exception of the title 'Becoming More Like Alfie'. The cassette looks the same on the 2 sides, and both songs are on both sides which makes the track notation A and B misleading.
It is curious to notice with the following scans that it may exist 2 versions of the tape: some with bars on the window, and some without.
The promo of
Becoming More Like Alfie
is actually just the CD single with an AJPR sticker. Different stickers were issued, one of them announce the BBC Radio 1 Roadshow in August 1996: "The follow up to the smash 'Something For The Weekend' is out on Setanta August 12. 'Becoming More Like Alfie', the second single to come from the highly acclaimed album
Casanova
also features 'Your Daddy's Car' from the recent Radcliffe Radio 1 session. Catch them at the Simon Mayo's Radio 1 Roadshow on August 1."; and another one announce the Reading festival appearances late August.
The VHS features the video of '
Becoming More Like Alfie
'. The video has never been reissued; but it is featured on the band's youtube channel.