A Korean version of
A Short Album About Love
was released. It is unsure when, perhaps about 2000, but first signs of it existence surfaced on the Internet back in 2008…
Like the official
Asian print
of the album, it comes within a jewel case and bonus tracks. But here the bonus tracks are from a later period with B-sides from
Fin de Siècle
and
A Secret History
.
While the front cover suits the original release, the back cover is really different using one of the promo pictures, and the tracklisting has a common typeface. '
Miranda
' is misspelled 'Mirands'.
The back cover features a bar code on the bottom-left corner; as well as copyright references to A-pro Korea (of which logos are to be found as well) and Rock Records, with legal information including references to dates in May 2000. We may wonder if its distribution over there was actually official or not, but even though it doesn't refers in any way to Setanta Records, but instead states "Under License From I.R.C. B.V.", it has been confirmed it was licensied from Setanta Records.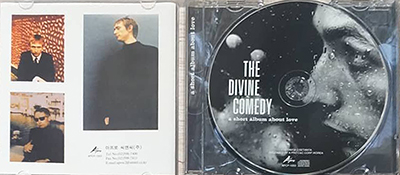 On the other side the inlay features the pictures of the band live, and a vertical title on the left (good idea!). And the booklet includes pictures from various era of The Divine Comedy.
The CD isn't black as other releases of the album, but reprises the front cover.
It is unknown if its content is actually a proper copy of the tracks, or just compiled from mp3.
A promo version of that album also exists. It features over the bar code a sticker "Promo, not for sale".