The French 1 track promo of
Bad Ambassador
was not actually release to promote the single, released in May 2001, but was released earlier to promote the album
Regeneration
. While
Love What You Do
was the first single in UK, in France '
Bad Ambassador
' was sent to radios for broadcast. Hence the artwork of the cardboard sleeve which use the
Love What You Do
artwork (CD 2 cover on front, CD 1 cover on back). The back cover features the release date of the album (probably because this promo was issued before the release of the release of the album), the track time, credits and copyright notes, serial numbers as well as Parlophone and Labels logo.
The CD features other logos: bel BIEM and Compact Disc. Around the centre, we can read:
MPO IFPI L033 VISA 6368 @@@ 01
and
20010112 0609 @@@ 4
The version of the track is actually the album version and not the proper edit of the song. So, it starts with the end of '
Timestretched
' overlapping the intro; and it was broadcast that way at the time.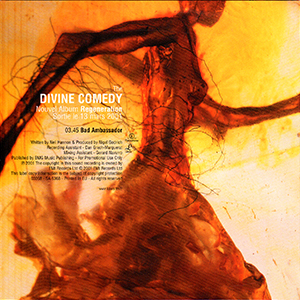 The CD was send with a promo card/advert featuring basic information on the band as well as upcoming dates: release of the album, tour dates and TV appearances (although they were not confirmed and may not have happen).