The singles from
Regeneration
were not only distributed in UK but also worldwide. However, unlike the other singles from the two next albums on Parlophone, at the time of
Regeneration
the pressing were slightly different to the
ones available in UK
.
First of all, while in UK the singles came with a sticker on the case, such stickers were missing from the new CDs in other countries (except if the UK releases were imported of course).
Aside from the sticker, CD 1 is exactly the same as the UK release, so only CD 2 is listed here. Indeed, CD 2 is a bit different. Without a sticker too on the box, it also comes with a different printed artwork, more darker.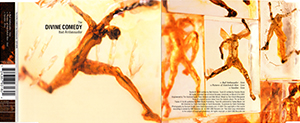 The CD has a slightly different background colour more lighter. The printed information are almost the same, except a noticeable difference which can be spot on the bel BIEM logo, as the
UK release
feature a circle around it, and not this release. Near the centre of the CD we can read
1-1-1 NL IFPI L045 EMI UDEN 8793182 @ 2
which means that it was manufactured in a different plant.
The CD was either commercially released along CD 1 (which did not came with those differences). Countries where such CD were made available include European Union, Easter Europe, Asia, but they were not specific to any of such countries. Additionally, a specific
promo CD
was released in France.