The first single from
Absent Friends
was '
Come Home Billy Bird
' which was actually the first post-
Regeneration
to be premiered in early 2002. Despite being quite well-known from the fan-base, here the new version of 'Billy' was a totally reworked orchestral version. Backed with vocals by Lauren Laverne (famous BBC radio DJ, and former Kenickie member), the song had then a commercial appeal.
Released one week prior the release of the
album
the single took advantage of the major promotion offered by EMI. On the other hand, since 2001 a page had been turned, and the press was less interested in 90's band, when newcomers were more exciting to talk about (Franz Ferdinand were the main buzz at the time). Anyway, the single did quite well, reaching number #25 in the UK charts which is slightly better than
Love What You Do
.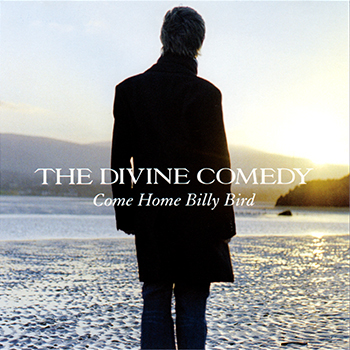 As usual to boost the sales, the single came within 3 formats. As a CD single, a maxi CD or as a 7" record. Their covers feature a photo shoot of Neil Hannon walking by the sea early in the morning, the second one being also included on the album's booklet. A
promotional film
was done by Dennis Madden during this and the album photo sessions, perhaps as an early idea for a music video (not sure though); and it'd end just being used for an advert. The proper music video is an animation produced by French director duo Kuntzel+Deygas. It recalls the story of the song: the businessman Billy Bird wakes up after a hangover and runs to his flights to catch up his son playing football. The result is quite convincing with funny faces of Neil Hannon, and a few references to France. The video is included as a CD-ROM track on the maxi CD.
The concept is that the maxi CD includes the regular version of the title track, the video, and as B-sides an alternative version (here a demo, arranged like when it was first played live) of the title track plus another song. On the other hand the CD single includes only one B-side. These 2 B-sides were not unfamiliar to the fanbase at the time. Indeed
Idaho
and
Girl Least Likely
were played live over the previous years.
Finally, the 7" single comes with a new song, '
All Things
'. That song, would also be available on CD thanks to the
Absent Friends Companion
bonus disc, along with the two other songs from the Single/Maxi.