In the early days, Setanta Records were distributed in the U.S.A. through
Bar/None Records
under the name Setanta U.S. (their office was housed in Bar/None's offices).
Casanova
was the first Divine Comedy album to be released in the U.S.A in August 1996 and probably the second from Setanta according to the catalogue number: SET US-002. The first release (SET CD-001) being the
Setanta US label band sampler
.
The release is very similar to the
UK 1996 release
: the paper weight is the same and the booklet as well. The back cover is also the same with the UK catalogue number on the sides and under the bar code. Only the bar-code and the Setanta logo are different. It looks like they just put those white frames over the original artwork.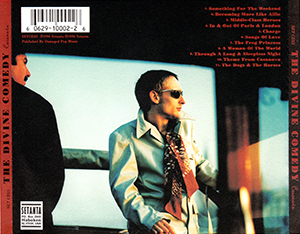 The CD itself is quite different, and more like the
French digipack edition
: plain black with the album title and a Setanta logo. It is actually the Setanta US logo with their Hoboken offices address. Under the logo it features the right catalogue number: SET-US002. Near the CD centre we can read:
SET-US002 IFPI L121 MASTERED BY NIMBUS IFPI L121
Some promotion was made at that time. Adverts were printed in magazines, and Neil Hannon played a few small shows in New York City in September 1996.

More interesting, this edition was issued after the success of
Casanova
and
A Short Album About Love
in late 1997 by Red Ink, a branch of Sony.
Maybe because only one album could be distributed for the American audience, the label released a double album. In addition to the
Casanova
album, it features a bonus CD called
Casanova Companion
with tracks from
Liberation
,
Promenade
and
Everybody Knows (Except You)
.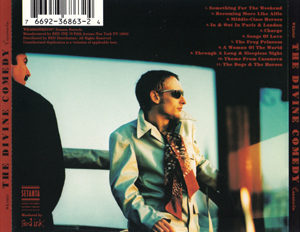 The back cover does not features the tracklisting of the 2nd CD, but the disc originally came with a sticker advertising the 6 tracks bonus CD. The back cover features the Red Ink contact infos, catalogue number and bar code number, as well as two logos: a Red Ink logo and a Setanta US logo (with their second address in New York).
Unlike any other
Casanova
release, this release features the right title for '
In & Out In Paris & London
'. Ironically, it is also the only one which got it wrong on the lyrics page ('In & Out Of Paris & London') - as all the other releases get it wrong on the tracklisting but right on the lyrics page.
UK edition
Red Ink edition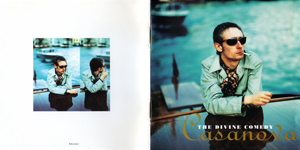 The lyrics title is not the only difference from the original booklet as the last page also features the Red Ink catalogue number: WK36863.
The CD side of the back inlay is pretty poor: instead of having the red artwork image, it is just plain red.
The CD re-use the artwork of the first US release: just features the title on a black background. The bottom part features a Setanta logo (without any address this time), the catalogue number and this time a CD Digital Audio logo. On the other side, near the centre of the CD we can read:
DIDX-056001 1 ¤ ¤¤ ¤¤¤¤¤¤¤¤ A01 IFPI L325