As it was the case with
Generation Sex
, the single was released in three formats: two CDs and a tape.
Black and white being the two main 'colours' for Fin De Siècle, CD1 is black while CD2 is white. Each has '
The Certainty Of Chance
' (the long version with Neil Hannon monologue) plus two other songs: a song by The Divine Comedy and a Nyman cover. The cassette features only one B-side.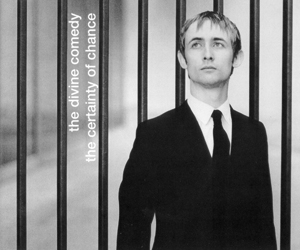 Following to the 1997 Edinburgh Festival, where The Divine Comedy played together with Michael Nyman, the band decided to record in studios four of the Nyman pieces they had covered. These were released on the
Generation Sex
and
The Certainty Of Chance
CDs.
Actually maybe too sober, this single was the first flop of The Divine Comedy: on the verge of the Top 50, it only reached the 49th place on the UK charts.