The Sony Music release of
The Certainty Of Chance
was issued for Canada, Eastern Europe (Germany, Switzerland, Poland, Czech Republic, …), Russia and probably Asia. It seems that only one CD was issued instead of two CD.
This single could be just a simple reprint of the
usual CD 1
: same front cover, same B-sides ('
Last Stand In Metroland
' and '
Miranda
'), same credits. However it is a different on one point: the CD features both versions of the title track: radio edit and album version. Therefore this it a 4 tracks CD and not a 3 tracks CD (a 6 tracks CD with all the
Certainty
B-sides would have been more exciting).

The CD looks different from the
original one
: instead of being transparent, the characters are white. The titles are the same, and the tracklisting similar (but features four titles). The additional info are printed in the same way (catalogue numbers, copyright notes and 'made in Austria' but has not 'distributed by Sony Music' information), but an additional Compact Disc Digital Audio logo is to be found on the left.
Around the centre of the CD, we can read:
Sony Music IFPI L554 S0166659614-0101 14 A1
and on the centre spin is engraved
IFPI 9420
.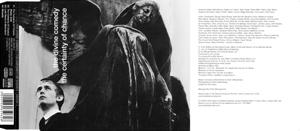 The inlay is very similar to the
UK release
except the serial number references and 'Distributed by Sony Music' mention. It also features 'CD-MS' and 'CB 608' logos.