This compilation album was made in support of victims of the Omagh bombings that took place on August 1998 and curated by Tim Hegarty and Ross Graham. The album was first released in UK in November 30 1998, and released in the States in July 13 1999.
The album included recitations of poems by Liam Neeson, exclusive tracks by Sinead O'Connor, Van Morrison and Enya; as well as songs related to the Troubles by Irish artists including The Divine Comedy. Neil Hannon has always been concerned by the subject of the Troubles since he lived in Londonderry as he states in the song '
Sunrise
'. In 1987, a bombing attack occurred in his home town, Enniskillen, which led him to write a song on the subject, '
Remembrance Day
'. In 1998, he wrote the song '
Sunrise
' as a song of hope for the future or Ireland.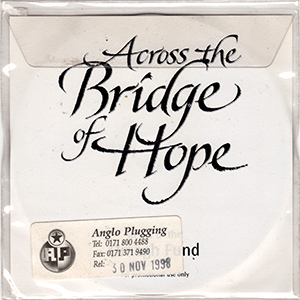 The promo CD of the compilation has a black desing. It comes with a black and white insert into a PVC sleeve. Notes that it features only 11 songs from the 14.