This DVD compiles some of the best moments of the TV series,
From The Basement
, which was curated and engineered by Nigel Godrich. The DVD features a performance of '
A Lady Of A Certain Age
' from the first series recorded back in 2007, although the original episode (episode 1) also included a performance of '
Our Mutual Friend
', both played solo by Neil Hannon. This performance helped to make those two songs quite famous in those formats, and became since live favourites, being played at every solo gigs.
The exact date of the performance is not mentioned on the episode or the DVD, but some promotional photo shoot had the date 31/08/2007 in their metadata, so it is somehow possible that was the exact day (the first episode was broadcast in December 2007).
It is also interesting to be aware that the original series was also broadcast on HD channels. It is then somehow quite reducing that only one of the song is then officially available and in standard definition DVD. Perhaps in the future the whole episode would be available on Blu-ray, let's hope…
The DVD was actually released in 2008 in Europe, and then released worldwide, including in the US. Those prints have actually quite different artworks.
The original DVD

The original DVD had the names of the bands over 7 lines, and it begins with Radiohead and The White Stripes. The disc is a region free (region 0) DVD.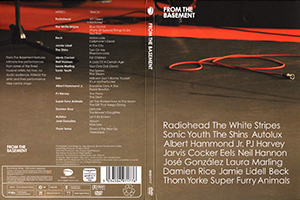 The DVD was subsequently distributed in Australia by Shock Records, but we do not know if it was the same print or not.
There is also an alternate cover, with the names of the bands over 8 lines. The first one having only Radiohead, and the second one The White Stripes and Sonic Youth.
The Region 1 DVD
The American edition was released as a Region 1 DVD, and has again a different order in the band's names. It starts with the title 'Series One' and then beings with Thom York and The White Stripe. Unlike the other DVDs, it doesn't features both Radiohead and Thom York on the cover (but both are included on the DVD of course).
The promo DVDs
Promo DVDs were issued in the different countries were the video was distributed. In France, a promo DVD by Naïve distribution was issued.
Episode 2 DVD

A DVD featuring the
full episode 2
with Neil Hannon exists. Although, it is unsure if it is a genuine promo disc, or actually a bootleg copy from a TV recording. It comes in a white box, and features the Internet address of the program, and the mention PAL DVD.