This CD-R by BBC World Service (later BBC Radio International) is part of 'The Mix' weekly series, a kind of transcription series aimed to promote some artists as well as the BBC archives.
Until 1998, those CDs used to came in jewel cases. The cover has design specific to this very series. The leaflet comes with a tracklisting sheet, but note that the disc reference is printed on the spine of the inlay.
These compilations are divided in various sections. First a selection of interviews. Probably taken from BBC Radio programs, they are also accompanied with official version of tracks. Then, the most interesting, is a selection of songs from an Live or In-Session recording. However, it is often only a handful of song from the original radio recording, although they come here in excellent quality. Then it focus on promotion with a selection songs from the new releases of the week. And to finish there is are older tracks, selected either from a vintage record, or the BBC archive.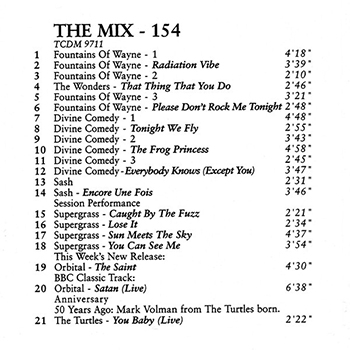 Here, one of the featured interviews is Neil Hannon interviewed about his career at the time of
A Short Album About Love
. We haven't figured out if this interview is taken from an actual radio show, or was recorded in a different context. Three classic tracks are also included on the disc. Note that '
The Frog Princess
' is faded out 10 seconds earlier than the album version.