This release - compiled by Béatrice Ardisson, wife of French TV presenter Thierry Ardisson - is part of a
Mania
series of tribute albums. This one focuses on covers of David Bowie songs.
Like a few other compilations (Uncut's
Starman
, Q's
Ultimate Songwriters
) it features the cover of '
Life On Mars
' as performed by Neil Hannon & Yann Tiersen at his
Black Session
which was released as an
album
.
The CD was released in various packaging.
The digipak

The regular digipak features a silvered artwork, and a booklet under the front cover.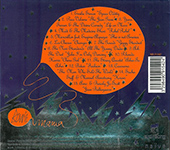 The cardsleeve

Another release also exists, coming in a simple card sleeve. The CD seems to be the same as the digipak edition, and the back cover features a different bar code.
The promo

The promo CD also comes in a card sleeve. It has the same front cover, but on the back does not feature a bar code. Instead it is written 'PROMO CD / NOT FOR RESALE' (in French tough). The CD is plain white and also mentions it is not for resale.