Collectorama British Pop
is the eighth volume from the
Collectorama
series, a series of 10" box set available exclusively on FNAC stores composed of a double disc set as well as a book.
This box set focuses on British music, from Gerry and the Pacemakers to… Lily Allen. Inside the box set 2 inserts describe the content of the package.
The first insert, sums up what's on the box, with tracklistings, a description of the book, and thumbs of the 5 included photos, which include a photo of Neil Hannon, taken by Renaud Monfourny back in 1994 at Enniskillen.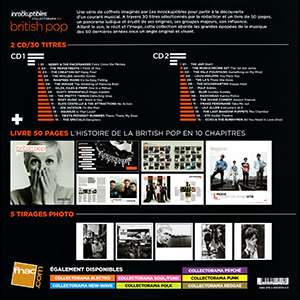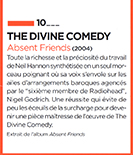 The other contains on each side a detailed tracklisting of each disc, with for a each song a little review. The Divine Comedy song, included on the second disc, is actually '
Absent Friends
'. But the review is quite wrong, saying the strings were arranged by
Nigel Godrich
, while they actually were arranged by
Joby Talbot
and Nigel only had a technical role, mixing the album.
The books tells the story of the British music from the late fifties to 2010. A little is said about The Divine Comedy's role back in 1993. But for each band, there is also a small biography which try to describe their spirit, before mentioning the latest album to date.