This promo Betacam by EMI International was made in June 2001, and features the music video of '
Perfect Lovesong
' which was released in… October! Actually the single was originally planned as a summer release, but was delayed for the final tour of the band's line-up.
We ignore how many copies were duplicated. The duplication was done by TeleCine with whom EMI was working with back then, and included is a technical sheet featuring the time codes, etc.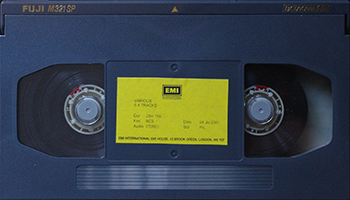 The release is entitled
6 x Tracks
on the cover but
8 Track Comp
on the accompanying sheet, the reason may be that the Gorillaz TV spots are technically 3 videos, but may count as one for the record company. The sheet also show the duplication date, one day before the date written on the cover.