Two versions exist of this compilations released by Virgin Trains in 2004 focused on the Move festival (which The Divine Comedy played in back in 2002).
One version has a 'night' cover, and seems more focused on the festival itself. While another has a 'day' cover and focuses more on the Virgin Train facilities to go to the festival, and offers a competition to win tickets.
Both versions have exactly the same CD and back cover on the other hand.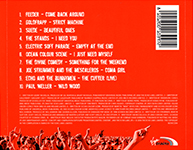 Instead of featuring songs by bands billed on the 2004 edition (the line-up is mentioned in the booklets), the disc features many artists who played at the festival during the previous year, hence the inclusion of a Divine Comedy track.
But it is clearly disappointing that those CD actually contain only album versions of tracks, and no recordings from the past concerts. So this is just the regular album version of '
Something For The Weekend
' which is included here.
The night cover has a simple 2 pages booklet with a description of the festival.
And the day version has a 8 pages booklet with details on Virgin Trains and terms for the competition.