This compilation curated by DJ duo Orbital is part of a series of releases by the DMC label called
Back To Mine
. Various artists did it including The Orb, Tricky, New Order, Pet Shop Boys or Mercury Rev. Although Orbital are the only one who choose to include a Divine Comedy song (here '
Lost Property
'), but it was not the first time they manifested an interest in the band. Indeed in 2002 they already choose '
Victoria Falls
' for a set released on CD by Mixmag,
The Bedroom Sessions
, and the year before '
Lost Property
' was also part in a set they did for the
Breezeblock Radio 1 show
.
As the album version of the song starts with the echo of the ping pong sound at the end of '
Note To Self
', the song was overlapped by the end of the previous song, on the CD version, Earth Leakage Trip's 'No Idea'. Nevertheless this mix is often mistaken as being the album version…
The compilation was released in many formats all over the world.
The LP

First, the compilation was released as a triple LP set by DMC. The track order is different and The Divine Comedy is on the last side between PJ Harvey and Falguni Pathak.
The European CD

The DMC release was issued in Europe. The CD came in a jewel box packaged in an outer card slip case.
A misprint of the CD release also exists, which features a booklet artwork with a black background, instead of being blue, and a CD named
Sohn Barry His Orchestra
.
The European promo CD

A promo CD by DMC was released. It is a CD-R which comes in a card sleeve. The front cover shows the albems artwork, and the back a simple tracklisting.
The US CD

The compilation was also released oversea by DMC USA with Razor & Tie. The US CD is quite different with no extra slip case, a different back cover, it also has a totally different booklet. Indeed instead of having pictures insides, it features in addition to the tracklisting a few words on each songs by Orbital. About The Divine Comedy's '
Lost Property
' they say: "
Anyone who can write such a beautiful song about lost property deserves a place back at mine
".
The US promo CD

The promo CD by DMC USA is a white CD-R and comes with a printed insert.
The Japan CD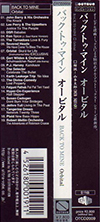 The compilation was also released in Japan by Octave. The release is actually the same as the DMC UK release, but instead of the extra spli case, it features an obi strip with the correct bar code number, and a Japanese insert with translation of the booklet notes.
The Chinese Bootleg
Finally, a CD was unofficially released in China. The packaging seems to be quite similar to the
Absent Friends

bootleg from China
.