This compilation, curated by Today FM's DJ Tom Dunne, focuses on Irish bands and songwriters. After a
first volume
(which included '
Something For The Weekend
'), a sequel was published and features the hit single '
National Express
' on the second disc alongside The Frank & Walters, A House, Ash and The Undertones.
Inside the booklet there are notes by Tom Dunne about the compilation, and also about each song. In addition to misspelling the album name (
Fin De Ciècle
- sight!), it focuses on the controversy that the song was an attack to the working class who use public transport, while Neil Hannon stated it was a misinterpretation of the song [1]: "
The song and the album (Fin De Siècle) which confirmed Neil Hannon's Divine Comedy as a permanent fixtures in the pop charts. There was mild controversy over the lyric, which appears to deride people who use public transport. Those who were offended should relax a bit and thank their lucky stars that another Irish band, Cathal Coughlan's Fatima Mansions never achieved any similar success. Their song on the same subject (Only Losers Take The Bus) didn't mince its words.
"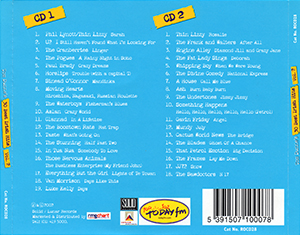 [1] MusicOMH interview 1999