This sampler CD was edited by the Tristar label which distributed the Divine Comedy albums in Japan in 1996/1997.
This CD was probably released in late 1996 soon before the Japan release of
Casanova
in early 1997. The disc aimed to promote that release, as well as saying that The Divine Comedy would be one of the new bands from the label to watch in Japan (hence the title "97 Tristar Line Up). Indeed the Divine Comedy's catalogue was then released in 1997, and in summer the band would do their first show in Japan, at the Quattro Club in Tokyo.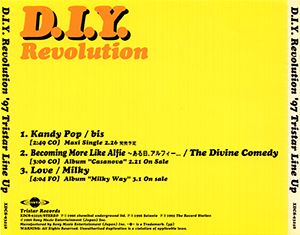 The inside of the booklet contains a biography for each of the three bands promoted by the compilation. For The Divine Comedy is also features the release date of the
Casanova

in Japan
, as well as the credits. Funnily, Neil Hannon is credited for playing all of the instruments of the album, as a DIY artist (the theme of the compilation), while it is far from reality.