Released in December 1996 (and in January 1997 outside UK),
Volume 17
celebrated the 5 years of the
Volume
series but was also sadly the last of the label.
The compilation was released as a double CD album and with an additional 'It' CD-ROM with the first 5000 copies. The 2 discs come in a double CD jewel box which is packaged with the 192 pages booklet in a CD box set.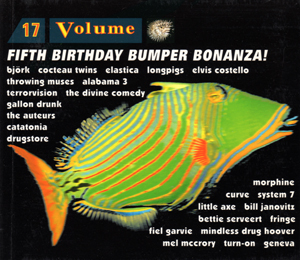 The booklet features a Divine Comedy
interview
to promote
Casanova
and its last single
The Frog Princess
, as well as a
small review
of the DC discography. The interview was probably made in October 1996 before Neil Hannon went on tour in Europe to promote the single.

The second CD features an unreleased track: a band version of '
Through A Long And Sleepless Night
' - "a live studio romp through a standout track from the DC's breakthrough album" says the notes of the booklet. The song is probably from the same session as
The Frog Princess
B-sides '
A Woman Of The World
' and '
Tonight We Fly
'. A strange thing: Stuart 'Pinkie' Bates is credited on guitar instead of organ, probably a mistake.
The centre of the CD reads:
ABLEX 83198 VOLUME 17 TWO
The promo CD

The promotional copies of
Volume 17
come in a plastic wallet sleeve with a card featuring the artwork, tracklisting and release info. Both CD have 'For Promotional use Only' printed on them.
The promo cassettes
A set of two promotional advance tapes also exists. They feature all songs from the CD and a simple insert with the tracklisting.