In the nineties, the
Volume
series were V/A compilations which the philosophy was to feature tracks from both established and up-and-coming artists. Tracks were outtakes compiled exclusively for the series.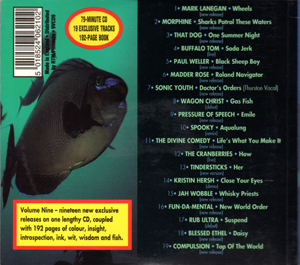 The disc comes with a CD case-sized book of 192 pages featuring interviews of all featured artists and more. The CD release features a CD in a tray sticked on the last page of the book. A limited vinyl edition was also available featuring a double LP with an alternate artwork and the same CD-sized book.

In the ninth issue of
Volume
, Graham Linehan (who worked at that time as a journalist and previously reviewed
Liberation
[1])
interviewed
Neil Hannon soon before the release of
Promenade
. Soon after, he would contact Neil Hannon again to ask him to compose the theme music for his new sitcom,
Father Ted
. This would be the beginning of the
Casanova
story with Neil Hannon composing '
Songs Of Love
' and '
A Woman Of The World
'.

The Divine Comedy track featured in
Volume 9
is '
Life's What You Make It
', a "new recording of an old hit". The recording is actually an outtake – from the same session as the
Promenade Companion
– recorded during an early
Promenade
session in late 1993 before The Divine Comedy was about to play in France. The song was a live favourite during this tour, and this live studio version sounds the way it was played in those days.
It remained unreleased until
Rarities
came out. The track became also available in a
Hot Press compilation
in late 1999.
The centre of the CD reads:
MET 5 S 9 VCD 9 01 MET 5 DISCTRONICS
[1] Reference needed