After the release of
Casanova
in Japan, Tristar went ahead with the releases of the next Divine Comedy album (
A Short Album About Love
), as well as the 2 previous albums (
Liberation
and
Promenade
). For such an important contract, Tristar lauched an advertising campaign (adverts..., but let's not forget that The Divine Comedy toured in Japan in 1997 and gave some interviews) under the name of
The Divine Selection
. A promotionnal CD for media, supposed to be a DJ-only promotional disc, came out in the late 1996, when
A Short Album About Love
was already completed. So,
The Divine Selection
was actually released in Japan after
Casanova
, but before
A Short Album About Love
,
Liberation
or
Promenade
.
Presumably having a circulation of one hundred, the record comes with a nice packaging and so is a valuable collector. The cover looks great without being very original as it shows the cover of the four albums the songs are taken from (
Liberation
,
Promenade
,
Casanova
and
A Short Album About Love
).
The CD comes in a single style jewel box. On the back of the insert, the tracklisting is written in Japanese and in English. Inside, you will find a discography and biography of the band printed in black-and-white and written in Japanese.
As the other Tristar releases, the side is white with a blue round on the top. We find again the picture of Neil drinking his coffee in Venice, picture appearing on the
Casanova
obi-strip, and corporate image of
The Divine Selection
on the other Tristar releases. Also, the picture of the
A Short Album About Love
cover used in the discography is not the standard cover, but the English digipack one (rectangular).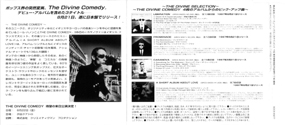 On the CD, the title, tracklisting and copyrights are written. It bears, on the left-hand side, the serial number XDCS 93277, JASRAC/STEREO and NOT FOR SALE/SAMPLE, as in several places of the sleeve.
Around the centre, you can read :
IFPI L275 XDCS-93277 1 ¤ ¤¤ ¤¤¤¤¤¤¤¤
Because some songs from
Liberation
were overlap to the previous or the next in the original album, they had to be cut with fade-in or fade-out effects added. Track 7 contains a faded-in version of '
Tonight We Fly
' but also contains the sample of Tom Jones (the film, not the singer!) which concludes
Promenade
, while being two separate tracks on the album. This lets to think it is deliberate.
Adverts
Since Tristar was in charge of promoting The Divine Comedy's back catalogue in Japan, an advert (left) was edited featuring the four albums, and
The Divine Selection
is mentionned on it. It seems that they were in charge of the band's promotion until the begining of 1998 since in a newsletter (right) they mentionned the
Twentieth Century Blues
album. But for the release of
Fin de Siècle
, The Divine Comedy'd have moved to V2.