In Autumn 2001 The Divine Comedy announced signing a deal with independent record company Nettwerk for the distribution and promotion of
Regeneration
in the US. It seems rather odd that happened and EMI were not commissioned for the job; probably because they were not confident in sales in the US, but this is only speculation and we will probably never know the ins and outs of those deals.

As a result, many reviews and interviews in the US press; which was followed by a few band live dates and an intensive solo tour supporting Ben Folds across all the USA.
To promote the release of the album, a 3-tracks sampler was issued. It features only the 3 singles of the album (although they are taken from the album, and are not the single edits). The disc features a picture of the band printed in black. The band name, disc title and tracklisting with times are to be found on the right along with a mention 'Produced by Nigel Godrich'. On the left, copyright notes, catalogue number and both Nettwerk and Parlophone logos. On the other side, near the centre we can read:
06 7003201223AV

MASTERED BY EMI MFG

IFPI 1667

IFPI L044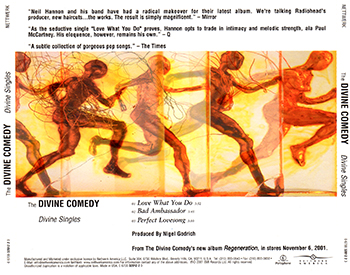 The CD came with a standard jewel case, with a back cover and a sticker with early dates of the US tour. That sticker was probably to be also found with the
album release
since it has the album's catalogue number. The back cover features some press reviews from the UK press, an edit of the album cover picture, a tracklisting plus a credit to Nigel Godrich, the release date of the album. Logo of both Parlophone and Nettwerk are printed, next to Nettwerk's contact information, copyright notes and the sampler's catalogue number. The same number is also to be found on the spine of the cover.