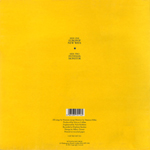 The
Europop
12" features the four songs produced by Edwyn Collins and with John Allen as a lead vocalist. The front cover shows the famous
Europop
design with the 12 stars of Europe and an '
Euro
POP' logo inside. 'The Divine Comedy' is printed in uppercase on top with the same font as
Timewatch
.
The back cover is plain yellow and features a small tracklisting (with a ★ between the 2 sides). At the bottom are featured the bar code, credits (but they don't include the band members' names to confuse fans who expect to hear Neil), catalogue number (SET 011) and Setanta's address (but non logo).
The labels are pretty simple: they are blue and feature the side and catalogue number, as well as band and songs names. They also features the useful note '45 RPM'.
Near the labels are etched:
MPO SET 011 A1
or
B1
depending on the side.

More exciting than the 12"; the CD features - in addition to the 4
Europop
songs - the 3 previous tracks from the
Timewatch
12". So, it is a good way to get all those songs digitally.
The artwork is nearly the same as the 12", but is not exactly the same: the top star has its point between the N and the E of 'DIVINE' while on the 12" it's to be found under the N; the '
Euro
POP' title is also higher than on the 12". On the side the band name is printed again but this time in lower case. At the end of the inlay are printed the bar code and Setanta's address (still without logo).
Around the centre of the CD, we can read:
SET CD 011 MPO 01 @
Some CD were distributed as promo with a sticker from Beggars Banquet Records 'For Promotional Use Only'. It features the stamped date '3 Feb 1992', so one week before the date from the press release (see below); it is likely the release date was postponed then.
There seems to be only 6 of them in existence.
The insert is of white paper and the sleeve of white cardboard. The labels are 'MPO' / 'Mayking Records' with 01-924 1661 printed on both sides.
On the side A's label, 'A' and '
19 DEC 1991
' are stamped in blue with the catalogue number in biro: 'SET011'. Side B only has the 'B' stamped.
Near the labels are etched the same as the usual 12":
MPO SET 011 A1 / B1
The records were given away with a hand written tracklisting and a small press release from Revolver Distribution with information such as the release date, radio airplay, interviews a live dates.