One more time the French release has a red L on the back and a different serial number. The first releases came with a sticker advertising the single '
Generation Sex
'.
The serial number (7243 8 46410 2 3) is to be found on the bar code, and also on the side, and on the top of the back of the booklet.
Around the centre of the CD (PM 513), we can read:
1-1-7-NL IFPI L046 EMI UDEN 8464102 @ 1

Another edition exists with the same booklet and tray cover, but with a different CD. Here, the CD has a grey artwork without the white background. The other side is the same with the same UDEN number. It seems to be a first issue with which a postcard was given to subscribe to Label's newsletter.
Pre-order voucher
The pre-order voucher was a folder in 4 pages. On the first page, you can see the tour dates. Inside the voucher is a schedule of all the promotion and marketing program, with a list of interviews, TV and radio appearances, as well as a list a promotional sample releases.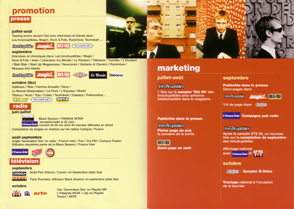 A postcard was given away for a competition to win a ticket for one of the concert from the French tour.
It features the album artwork with details such as the release date on the front. And a questionnaire on the back: 3 questions, and the choice of the date to apply the competition to.
In addition to the Labels' logo, there is also a FNAC logo which must have sponsored the event.
Advert