This single, the first from
Fin De Siècle
, was also the first of what would become the standard: two CDs and an alternative format, here a 7". Each release featuring exclusives B-sides.
Black and white being the two main 'colours' for
Fin De Siècle
, CD1 is black while CD2 is white. Each have '
Generation Sex
' (album version) plus two other songs: a song by The Divine Comedy and a Nyman cover each time. The 7" features only one B-side.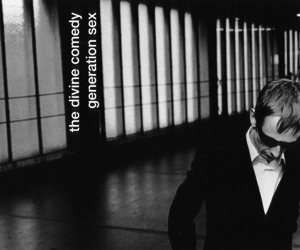 Following to the 1997 Edinburgh Festival, where The Divine Comedy played together with Michael Nyman, the band decided to record in studios four of the Nyman pieces they had covered. These were released on the
Generation Sex
and
The Certainty Of Chance
CDs.
It is also likely that The Divine Comedy went in studio in 1998 to record an acoustic session featuring '
London Irish
' along with '
The Heart Of Rock And Roll
', '
Going Downhill Fast
' (both on
National Express
), '
Eric The Gardener
', '
With Whom To Dance
' and '
Jackie
' (on
The Pop Singer's Fear Of The Pollen Count
).