The Sony Music release of
Generation Sex
was issued for Canada, Eastern Europe (Germany, Switzerland, Poland, Czech Republic, …), Russia and probably Asia. It seems that only one CD was issued instead of a two CD set. It is actually a simple reprint of the
usual CD 1
: same front cover, same B-sides ('
London Irish
' and '
Time Lapse
'), same credits.

The CD looks almost the same as the original release with a few adjustments: catalogue numbers, 'made in Austria' as well as some logos (Compact Disc Digital Audio, SACEM, …) and a copyright notice added on the left.
Around the centre of the CD, we can read:
Sony Music IFPI L553 S0166632014-0101 13 A2
and on the centre spin is engraved
IFPI 943C
.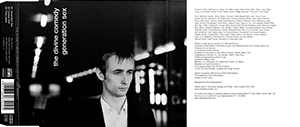 The inlay is very similar to the
UK release
except the serial number references and 'Distributed by Sony Music' mention. It also features 'CD-MS' and 'CB 608' logos.