The design for
Generation Sex
is black and white, just as Neil Hannon's suit. The cover photos are black and white. They were shot in Vienna.

So, CD1 is black, with the characters transparent.
Around the centre of the CD, we can read:
12187 01025 SETCDA050 SP FT

the same way, CD2 is white. The characters are the same as on CD1.
Around the centre of the CD, we can read:
121881 01026 SETCDB050 SP FT
This item is also black and white, both colours appearing on the disk: black for the A-side, and ivory for the B-side. The cover photo is the same as on the CD1, and is drawn out on the back next to the credits. Near the center, we can read inscriptions at four sides on the edge.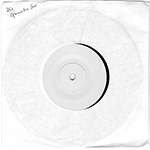 A white labels test print of the single also exist. It is the same print as the official release. It comes within a generic white sleeve on which the title « DCs – Generation Sex » is handwritten on the top-left corner of one side. We do not know how many copies actually exist.
It is CD1, but in a plastic sleeve. Some were given away to radios by
Alan James PR
and features a sticker. One can read: "Following up three Top 15 hits and a Gold album, the new Divine Comedy single is released on
Sept 14th
. The video for 'Generation Sex' was shown exclusively on the
ITV Chart Show
last Saturday and was added to the
Radio1 B List
four weeks ahead of release. The Divine Comedy are on tour in Sept/Oct visiting Portsmouth (24), Wolverhampton (25), Liverpool (26), Sheffield (27), Edinburgh (29), Middlesbrough (30), Leeds (1), Cardiff (3), London (4), Cambridge (5) and Bristol (6)."
A promo VHS, duplicated by Vanderquest, features the video of '
Generation Sex
'. The editing was done by Blue post-production; and there is a start screen featuring the credits.
Some copies were distributed by Alan James PR and have a sticker saying: "Released on
September 14th
, The Divine Comedy's new single is the first track taken from their fourth studio album
fin de siècle
(released
August 31st
). The band play the Reading Festival mainstage on Sunday August 30th and tour the UK from Sept 24th to Oct 6th."