Second single from
A Secret History
and last single from Setanta Records,
Gin Soaked Boy
was released at the end of the summer 1999. The photos represent a gin soaked boy: Neil Hannon, with his collar open and a drink of gin and tonic. Each CD represents a sketch of lemon slice.
The CD1 features the radio edit of '
Gin Soaked Boy
', a shortened version in which one verse has been cut out. The B-sides are a remix of '
Songs of Love
' and a new song, '
I Am
', based on a Brian Eno poem, which shows a new side of The Divine Comedy.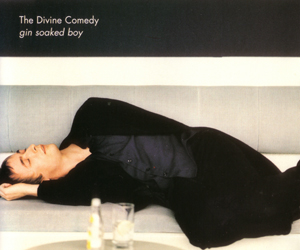 The CD2 was a novelty at the time: besides having the usual two B-sides, it features as well the video of '
Gin Soaked Boy
'. The two B-sides are not really exclusive songs, but rare songs made available to the Divine Comedy fans and that could have been on
Rarities
after all. The live version of '
Geronimo
' with Yann Tiersen (recorded in a
special concert in Rennes in 1998
) is taken from his limited
Black Session
album. And '
My Lovely Horse
' is the famous Eurovision song from the
Father Ted
series originally broadcasted in April 1996.
Finally the MC has two songs, as always: the single itself plus a live version of '
Europop
' at its best.