This promotional CD was issued about Autumn 2004 in Ireland, apparently to promote the Irish tour in addition to the forthcoming DVD release of
Live At The Palladium
.
There are many reasons that lead to think this promotional disc was 'home-made' by EMI in Ireland (or another promotion company), and not directly by Parlophone.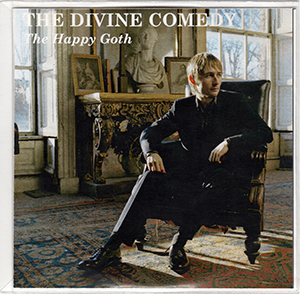 First of all, the choice of the song: '
The Happy Goth
' is an odd choice, since it was not a single, it's a pure album track, and perhaps a personal choice from the team who decided to edit that promotional item.
Also, unlike the other promotional CD, it does not come within a card sleeve. It is just a promotional CD-R in a PVC sleeve. The insert has been made with a laser printer and seems to be hand cut. The front cover features a photo from the series (of many) of armchair photo shoot of Neil by Circe for the promotion of the album. The titles don't even use the same typeface as the other official and promotional releases from that time!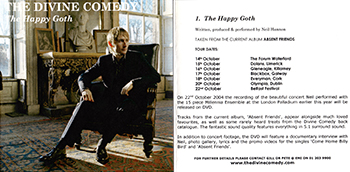 The back is just a black and white print with information. It features the tracklisting as well as the mention 'Written, produced & performed by Neil Hannon': it's a bit unfair to the
Millennia Ensemble
! Then, it lists the forthcoming Irish tour, gives details about the
Live At The Palladium
DVD, and finishes with contact information at EMI and the DC website.
Finally, the disc itself is a CD-R with printed information. On the top the band's name; on the left 'EMI' (note the absence of any Parlophone logo / reference at all), on the right a Compact Disc logo, on the bottom the song title ('Happy Goth' without 'The'), and below a circular legal note.