Like
Indulgence No. 1
,
Indulgence No. 2
in a 7" EP with one side at 45rpm and the other at 33rpm. But this time it is not a picture disc, but a hand-printed 7". Therefore each copy is somehow unique.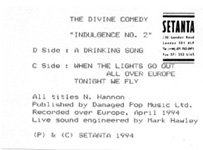 The discs are presented in a simple, folded, white sheet with a photo of Neil on it, most with a red, but some with a blue, printing, and some left without a stamped title. On the other side, there is a sticker similar to the one that comes with
Indulgence No. 1
with tracklisting and credit details. About the making of the record, Simon from Setanta said [1]: "We, being in the old days a bit of a 'cottage industry', did in fact stamp the records by hand. The label (as also on
Indulgence No. 1
) was printed out on my old Citizen 120D in the kitchen - using a feat of engineering including a broom handle, a kettle, some treasury tags and two bulldog clips to keep the (toilet-roll sized) roll of stickers feeding through the printer! Ahhh, the old days...".
Those 7" were produced at the same time as the first two Catchers singles, that features too a folded cover, and blue and red stamps (on stickers and on labels). Most of the labels are printed in red, but blue prints also exists, although they do not necessary come with a cover of the same colour. While the Catchers singles have A & B (
Cotton Dress
single) and C & D (
Shifting
single) sides,
Indulgence No.2
has D and C sides stamped on the labels (they stand for Divine Comedy). But some (at least one) of the
Shifting
record was confused for an
Indulgence No.2
and distributed as such.
On both the red and blue 7" we can read by the centre:
D side (A side):
ORLAKE OVER ENDULGE DC+002+A
C side (B side):
ORLAKE EXCESS-ACCESS DC+002+B
Although 1000 copies of the disc were originally released in 1994, Setanta put some
Indulgence No. 2
back for sale on their website when Divine Comedy left Setanta. We ignore if they were from a stock of the first pressings, or if there was a second pressing.
[1] E-pop mailing list