Often considered as a true single, this release is overrated by many collectors as it is just a sampler. The Divine Comedy song is '
Jerusalem
', the original B-side of
Timewatch
which was just released at that time.
That promotional 7" was actually issued to promote a '
Setanta night
' at London's Camden Underworld in November 1991, the record features a song from each band who played that night. But the disc was probably made available by mail order by Setanta later.
We do not really know if The Divine Comedy often played with Setanta's label mates at the time. Although, Neil Hannon must have been influenced by those bands at the time. Since A House's 'Endless Art' is said to have inspired '
The Booklovers
'; and also Neil acknowledged The Frank & Walters for inspiration on '
The Pop Singers's Fear Of The Pollen Count
' (Neil might have said they should deserve a credit for the song); Paul Linehan also stated that Neil's favourites Frank & Walters tunes were 'Daisy Chain' (from
Trains, Boats And Planes
, 1992) and 'Tony Cochrane' (from
Grand Parade
, 1997). [1]

There is no particular artwork, the disc comes in a Setanta sleeve and the label has a pink design. Near the label, we can read:
A side:
MPO CAO 002 A1
B side:
MPO CAO 002 B1
Original releases came with a Setanta catalogue of their first releases. They include
Fanfare For The Comic Muse
and
Timewatch
as well as a
cassette compilation
.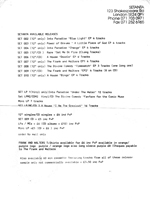 [1] Chat with Paul Linehan, 20/04/2012