This promo sampler was issued by Music Sales, a music publishing company which own Chester Music to whom
Joby Talbot
signed to in the late 90's. It focuses then on Joby's early work as a composer (not just arranger then) in classical, television works and pop music before he went to release his first proper albums and soundtracks. Some of them are actually connected with The Divine Comedy.
The disc opens with what was Talbot's major television works in those days: first musics from
The League Of Gentlemen
TV series. These tracks are actually different from the available tracks in the series DVD bonuses. Tracks 2-5 are four instrumental pieces, and track 1 is the main theme (which is not overlapped by anything here) that features no other than the wonderful
Hilary Summers
on vocals.
Then there is the theme of another TV series for which Joby did the score of:
Chambers
.
Track 7 is a particular treat, since it is the music of a short TV movie produced by the BBC:
Queen's Park Story
. This production features a few other DC connections other than the fact Joby Talbot scored the music, please refer to
its page
for more details.
Another soundtrack included is the one Joby did from Alfred Hitchcock's
The Lodger
in 1999. Since it is only 3 minutes long here, it is quite possible that it is only an extract, the whole silent film scored by Joby Talbot being available as a DVD anyway.
The Lodger
was also performed live by The Matrix Ensemble a couple of times, in London's Southbank Centre BFI (British Film Institute) on 3rd October 1999 and in Paris' Louvre Cinema on 25th and 26th November 2000.
Track 8 is the famous
Tomorrow's World
Theme which was based on '
In Pursuit Of Happiness
'. Even though it was probably Joby who was commissioned by the BBC, and who did the arrangement of the DC song; nonetheless that theme music is technically a Hannon/Talbot composition.
The next track is another Hannon/Talbot composition, '
The Certainty Of Chance
' from
Fin de Siècle
. This collaboration as a composer within The Divine Comedy was a major step forward for Joby in his early career, and therefore for his publishing company's perspective. This is only the final outro of the song which is included here however, since that is the part that Joby composed for the band.
The Hannon/Talbot body of work went at its height when they collaborated on the Ute Lemper's album
Punishing Kiss
. So this is no surprise a track from this album is included: '
You Were Meant For Me
' is the closing piece from the sampler.
Track 10 and 11 are two interesting early classical pieces (or extracts from them) which remain unreleased apart from here. 'Luminescence' was performed by the BBC Philharmonic Orchestra in Manchester on 8th October 1997 and recorded by BBC Radio 3. The disc doesn't give those details, but it is likely this is the version included here.
'Incandescence' is a kind of follow-up piece, published the next year. The piece was originally commissioned by the
Brunel Ensemble
and later toured by Evelyn Glennie and the London Sinfonietta; it is unknown who actually performs in this recording though.
Other notable pieces from those days, sadly missing from that disc, are 1995's 'Doublethink' which wasn't actually published by Chester anyway; and 'Finding Silence' which was performed by the
Crouch End Festival Chorus
and the Hertford Chamber Orchestra at the Union Chapel on 29th June 1997 and drove the interest of a few DC fans back at the time. [1]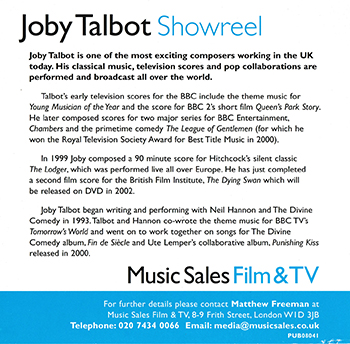 The CD itself is a CD-R with printed info on it: title, tracklisting, Music Sales contact info, and of course the mention 'Promotional Use Only'.
The disc is accompanied with a square insert, although it does not come in a PVC sleeve but in a single box – not a slim box as they did not come out yet in those days, but a regular box for CD singles then.
The front cover features the main promotional photo of Joby in those days, titles and tracklisting with contextual information.
The other side features a short biography focusing on his TV, cinema and pop music works.
[1] Emporium 4, 1997