As well as being released for France, the album
Liberation
was released in Germany by the label Sound Factory in early 1994. We don't have very much information about Sound Factory. It was an independent label that distributed indie bands including Setanta's. They released some promo compilations with magazines featuring The Divine Comedy or The Glee Club.
The album was released at the same time as the Sound Factory Festival in Germany where The Divine Comedy have probably played, and with a release of a
promo compilation
. Any additional detail about the German promo of The Divine Comedy in those days would be welcome.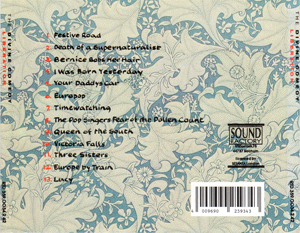 While the front insert is nearly the same as the
original UK release
, the back cover features a different bar code, and a Sound Factory logo instead of the Setanta logo (of course with the mention 'licensed by Setanta London'). The sides feature the catalogue number RTD 359.0034.2 42.
More interesting is the CD which features a different artwork than the original release. Instead of featuring the
Wallflower
pattern (which is on the back cover), has the
Iris
one (to be found on the inlay). It is actually the background which is printed in black to show the pattern in silver. Over the artwork the titles are printed in red. On the left a Sound Factory logo is to be found and on the right usual logos and the catalogue number. Around the centre of the CD, we can read:
DURECO [01] 359.0034.242