This promo CD of
Perfect Lovesong
was released by EMI in Germany in Summer 2001. Ahead of the release of the single, the disc features elements from the 2 first
Regeneration
singles.
First the artwork is very similar to the first CD of
Bad Ambassador
. The same photo is used for the front cover, and only the title has been changed. The other parts feature the same sketches background. Like the CD singles, credits are printed as well as information about the album.
Despite not being a commercial release, the CD features a bar code number, printed on the side (as there is not catalogue number) and, as usual, in a EMI frame.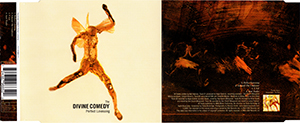 The disc features 3 B-sides, '
Edward The Confesor
' and '
U.S.E.
' are both from the
Bad Ambassador

CD 1
, and '
Soul Trader
' from the
Love What You Do
singles.

Near the centre of the disc we can read:
IFPI L046 EMI UDEN 8796652 @ 2
On the CD are also printed the tracklisting, credits, the serial number, Parlophone and bel BIEM logo. Like the
Bad Ambassador
and
Love What You Do
UDEN releases, we can spot the bel BIEM logo does not feature the circle around it.
The CD came with a small press release card by EMI Germany like the one which was given with
Love What You Do
. It mentions the B-sides, and the concerts in Germany such as the Haldern Festival.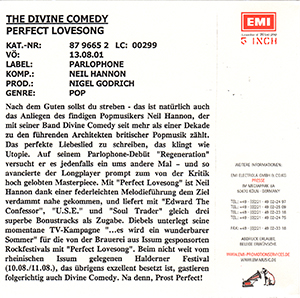 An Abbey Road Mastering CD-R of this promo also exists. It features the same tracks and has a white cover with the Abbey Road logo. Apart from the names of the artist, title track and label, the engineer name and the studio numbers are also printed. The other information are the serial number (which is the same as the release above) and the mastering date (16 June 2001). The release comes with a sticker 'For Repertoire Approval'.