The Sony Music release of
National Express
is a curious item. Indeed, as the two previous Sony singles,
Generation Sex
and
The Certainty Of Chance
, the single comes within an usual single box whereas the UK release was marketed as a card sleeve single. This version was issued for Canada, Eastern Europe (Germany, Switzerland, Poland, Czech Republic, ...), Russia and probably Asia.

Only the first CD was issued, which included exactly the same tracks as the
UK CD 1
. The differences are all in the artwork.
First of all, the front cover is different from the CD 1. As it is larger, we can see more of right of the photo of Neil Hannon. There is also a larger gap between the photo and the titles on the left, which have the same red colour as the UK release.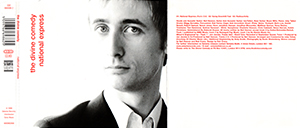 The credits on the back are very similar, but minus of course the 'Distributed by' and 'Made in' notes; as well as the Setanta catalogue number and the copyright info.
The side features the same titles as on the front cover, although the CD title is thinner to not be confused with the band name. The other part features the barcode and the Setanta logo; as well as serial numbers and copyright / distribution notes. It also features 'CD-MS' and 'CB 608' logos.
Finally, the CD looks almost the same as the original release except that it has a plain black background !! It also has a few adjustments: catalogue numbers, 'made in Austria' as well as some logos (Compact Disc Digital Audio, SACEM, ...). Around the centre of the CD, we can read:
Sony Music IFPI L551 S6669862000-0101 11 A2
and on the centre spin is engraved
IFPI 942C
.