As '
The Pop Singer's Fear Of The Pollen Count
' didn't get a proper single release in 1993, to coincide with the release of the best of The Divine Comedy,
A Secret History
, a new recording of song was released as a single in summer 1999.

The artwork of the singles uses photos from the same session of
A Secret History
, taken in Co. Fermanagh, Northern Ireland. And the CDs are meant to recall a sunflower.
The first volume and the MC have a coloured artwork and feature three acoustic tracks: '
With Whom To Dance
', '
Eric The Gardener
' (both on CD1) and '
Jackie
' (MC), a cover of Jacques Brel (and of Scott Walker). It is likely that they were recorded during an acoustic studio session in 1998, along with '
London Irish
' (on
Generation Sex
), '
The Heart Of Rock And Roll
' and '
Going Downhill Fast
' (both on
National Express
). This version of '
Jackie
' is the only studio recording they released of the song, but Neil Hannon had covered it live several times in France since 1993 (the first version being available on
La Cigale 6-11-1993
). This studio release can also be found on the
Next

tribute compilation
to Jacques Brel, which is interesting for those who want it on CD.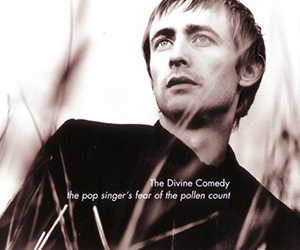 The second volume has black and white artwork. It features two new unreleased songs: '
This Side Of Paradise
', an instrumental by The Divine Comedy, and '
Vapour Trail
' a cover of a Ride classic.