Du fait que '
The Pop Singer's Fear Of The Pollen Count
' n'était pas sorti en single en 1993, pour l'occasion du best-of de The Divine Comedy,
A Secret History
, une nouvelle version fut enregistrée et sortit en single pendant l'été 1999.

L'artwork des singles reprend des photos de la même session que celles d'
A Secret History
, prises dans le comté de Fermanagh, en Irlande du Nord. Et les CD sont sensé évoquer un tournesol.
Le premier volume et la cassette ont un design coloré et comprennent trois titres acoustiques : '
With Whom To Dance
', '
Eric The Gardener
' (tous deux sur le CD1) et '
Jackie
' (sur la cassette), une reprise de Jacques Brel (et de Scott Walker). Il est probable qu'ils furent enregistrés pendant une session acoustique en studio en 1998, avec '
London Irish
' (sur
Generation Sex
), '
The Heart Of Rock And Roll
' et '
Going Downhill Fast
' (sur
National Express
). Cette version de '
Jackie
' est la seule version studio jamais sortie, mais Neil Hannon l'avait déjà reprise de nombreuses fois en France depuis 1993 (la première version étant sur
La Cigale 6-11-1993
). Cette version studio est aussi sortie sur la compilation hommage à Jacques Brel,
Next
, ce qui est intéressant pour ceux voulant l'avoir en CD.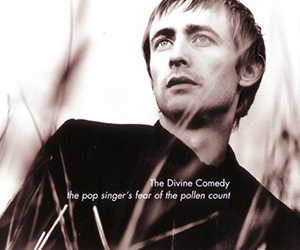 Le second volume a un artwork noir et blanc. Il comprend deux nouveaux morceaux '
The Side Of Paradise
', une instrumentale de The Divine Comedy, et '
Vapour Ride
', une reprise d'un classique de Ride.