In the same vein of the
German release of

Liberation
,
Promenade
was released by Sound Factory.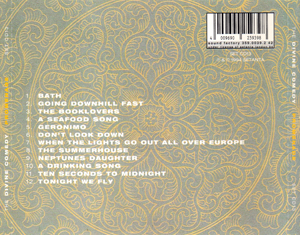 First, the artwork: the front sleeve is the same as the UK version, but the back cover is different. Of course it has a different bar code with the label name and catalogue number, but that's all actually. As on the
UK release
no label logo. The release date and catalogue number on the sides are not changed from the original artwork too. If we trust them, we would say the album was released in 1994, but according to listings the album was released in 1996, which is possible too (the artwork being not updated). The other side of the back inlay is actually... blank ! No photos ! The CD tray being actually black instead of being transparent.

Secondly, the CD itself. The CD is very similar to the
UK release
, but features a black print with a CD logo, as well as the Sound Factory catalogue number and copyright note. of the album. On the centre spin is engraved
3590039242 12 A1 DADC Austria
.