This promotional interview sampler was issued in spring 01 for the promotion of the
Regeneration
album.
It features an audio interview with Neil Hannon and
Stuart Bates
. Earlier in the year, the two members also recorded a different video interview for the band's website
– at that time the band members gave many interviewes in the records company's office for various media.
The CD features a 35 minutes long interview, which is split into 26 tracks, one for each question. As the questions were left out of the recordings, the CD comes with a card sheet featuring the questions, and marks of the answers, plus suggested tracks for audio presentation. While some questions are generals about the making of the albums, other focus more on a track-by-tracks approach.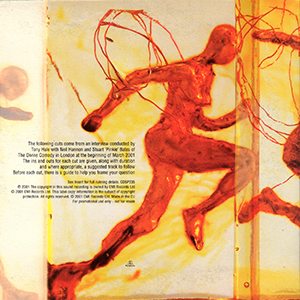 The back cover features usage information, as well as credits of the conductor and (not really detailed) location/date information.
The CD itself is, like other
Regeneration
promos, a coloured disc. Around the centre of it, we can read:
CDSP235 1:1:1. EMI UK IFPI L041