In 2005 The Divine Management announced that Neil Hannon had acquired all of the worldwide copyrights to his recordings that were produced by Setanta Records. Then, since that time, the albums have not been in print and started to be unavailable in shops. Of course Divine Comedy Records Limited were launched to reissue all of the albums (with extras), but the process is taking time and is still not finished today. On the other hand, with the release of
Victory For The Comic Muse
in 2006 many (new) fans would look for previous Divine Comedy albums. That's the reason why the label issued their first release in July 2006: a reprint of
A Secret History... The Best Of The Divine Comedy
. The album was still distributed by Vital (that was the distributor of the Setanta releases) under the catalogue number DCRL100CD (instead of SET CD 100).
The album was basically meant to be the same as the
Setanta release
: same mastering and no bonus tracks. But some small changes had to be made on the credits, and the artwork has some small differences when compared to the
original release
.
First, the printing quality of the artwork is lower than the
original
. Everything looks blurred: details have been lost and it is not very easy to read the credits. These credits have also been updated following the many changes that occurred between 1999 and 2006:
The tracklisting pages have a more yellow background and a bigger font compare to the Setanta release.
While on the original release the songs from

Liberation

to

A Short Album

had publishing credits to Damaged Pop Music, they now are published by both Damaged Pop Music and BMG Music Publishing.
In the credit pages, The Divine Comedy is no longer presented as a band. It would have been confusing to someone buying the album in 2006 reading who are The Divine Comedy knowing that most of the members are no longer in the band. Then, all album credits have been updated with the complete list of musicians (instead of additional musicians).
The contact notes have been dropped and replaced by 'www.thedivinecomedy.com / www.dcrecords.co.uk'.
The thanks section has been moved to the last page.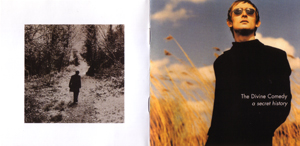 The front cover is of course the same photo, but the cutting is a bit different: we can see less detail at the top, left and bottom, but more on the right.
Setanta release
DCR release
The back cover is also different. First it has a new bar code and the new Divine Comedy Records logo. The cutting is, once again, different: less detail at the top, but not more detail at the bottom. At first sight it looks like we have more detail. But if we look closely, we can notice that the bottom part has been reproduced 3 times. It is likely that they needed to fit the picture and they photoshopped it to increase its width.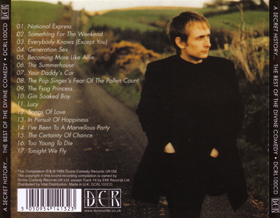 The sides of the inlay are completely different: they are plain black with title, reference number and logo printed in white, while they were the continuation of the back picture with info printed in black. This actually goes with the new artwork of the disc itself. Indeed the disc is plain black like the one in the limited book of
A Secret History
. Of course it has the DCR logo.
Near the centre of the CD we can read:
CA DCRL 100CD@@@@ IFPI L036
followed by a date like
03/13/2006 10:53:16 AM
or
06/13/06 10:53:16 AM