One more time the French release has a red L on the back and a different serial number. The first releases came with a sticker advertising the single
Gin Soaked Boy
.
The serial number (7243 8 48095 2 2) is to be found on the bar code, and also on the side, on the top of the back of the booklet, and on the CD.
Around the centre of the CD (PM 538), we can read:
1-1-2-NL IFPI L046 EMI UDEN 8480952 @ 1
The front cover is a bit different from the Setanta release too. The very top of Neil's head has been cut off on the French release.
Setanta release
Labels release
Pre-order voucher
On the first page of the pre-order voucher, there's a short introduction and the tracklisting of the best of. Inside is a list of promotional and marketing acts and at the back you find the voucher itself for any disk from
Liberation
to
A Secret History
.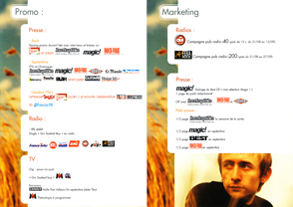 In 2000, French indie label Poplane helped Setanta to redistribute records in France. Therefore some limited editions of Divine Comedy records not distributed by Labels were made available in France. This is the case of the limited book featuring the album and
Rarities
. The book is actually exactly the same as the
UK release
, but has a Poplane sticker on its blister pack.
Advert