A Secret History
was the second Divine Comedy album to be release in the U.S.A. after
Casanova
. This time the best of album did not featured any extra content for American fans who could difficulty get the albums. So, this item is not a very valuable record from the DC catalogue because it is often forgotten.

While the booklet is indeed the same as the original
UK release
and the back cover has only differences about catalogue / serial numbers and labels' logos, the CD is very particular. Instead of being black and white it is yellow ! The whole photo of Neil's head and the trees behind has been printed in yellow on the disc and no title is printed on the CD. We do not know why the CD has been designed like this, but this makes a singular edition of
A Secret History
.
Near the centre are engraved:
IPFI L323 10A ¤¤¤¤¤¤¤¤ ¤¤ ¤
and:
DIDX-068931 1
and:
IFPI 5032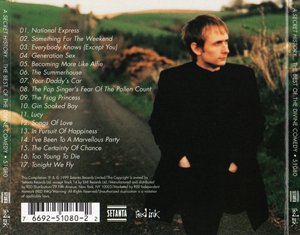 The back cover is more conventional. It features the same photo and same tracklisting as the
original UK release
. Besides, the notes are the same, except the distribution notes about Vital and 'Made in U.K.' that have been replaced by the Red Ink address and an usual copyright warning note.
Beside, the bar code is of course a different bar code. And on its right two logos are printed: the Setanta logo (without their London address) and the Red Ink logo.
The sides of the inlay feature the titles as well as the U.S. catalogue number (51080), but also feature both logos once more. Unlike the U.K. release, it reads in a different way on each side.